How to Choose a 3D Product Configurator for Your eCommerce Business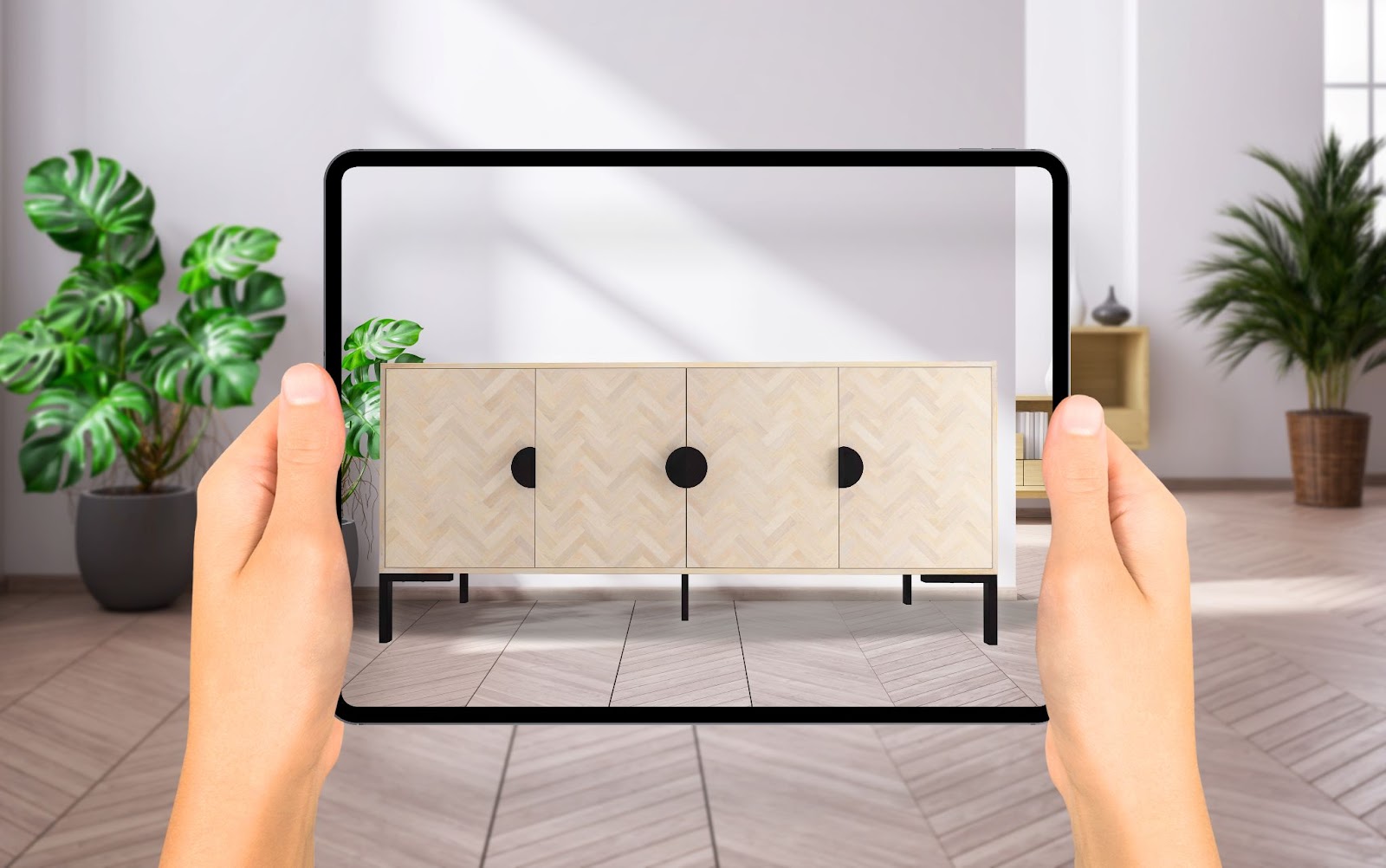 So you've heard the noise about 3D product configurators, but you have no idea how to choose one?
You're not the only one.
The competition is fierce and it's hard to tell the difference between various software companies.
Not to worry. By completing the Herculean task of Googling this topic, you've started off on the right foot.
But before we get down to the nitty-gritty, let's start off with a brief overview:
Introduction To 3D Product Configurators in the eCommerce realm
The rise of the 3D product configurator in eCommerce happened without most people really noticing.
No doubt we were too busy zooming on poorly lit 2D product photos, trying to visualise how they would look in our heads.
But visual product configurator software is here and it's more necessary than ever.
22% of all purchases will be made online by 2023, so it's important to acquire the right tools to facilitate those sales and separate yourself from the competition.
Interactive 3D generates 40% higher conversion rates than traditional marketing and every indicator shows that customers are ready for this step forward:
82% of them activate 3D product configurators when visiting websites
95% prefer 3D configurators to video playback.
So now that you've glimpsed the future and the role 3D product configurator software will play in it, let's take a look at the factors you should pay attention to when choosing your 3D product configurator.
In this article, we'll examine:
3D product configurator integrations
3D configurator software capability
3D configurator software functionality
User experiences
3D product configurator selection criteria
3D product configurator integrations comparison
There are a number of different 3D product configurators available, but there is also the question of how well they can be integrated into specific eCommerce platforms, and which one works best.
So here's a list:
1. 3D Configurator WooCommerce
WooCommerce is a WordPress plug-in used by many businesses for their eCommerce needs. It's a self-hosted platform and it is modular, meaning its features can be extended with further plug-ins.
The downside is that if you have a lot of plug-ins, the site might run slowly.
Adding a 3D configurator to the site is relatively easy. You can do it through a plug-in like iOne 360.
Or you can order a 3D model from your company of choice (Plattar, Threekit, Sayduck), upload the model onto the company's platform, publish the product, then copy the embed code onto your WooCommerce site.
No coding
No plug-ins
Works across multiple browsers and devices
The process is far more scalable and useful for a 3D content pipeline.
2. 3D Configurator WordPress
WordPress is a Content Management System (CMS) that comes with eCommerce plug-ins. WooCommerce is one of them, but there are many more.
You can add a 3D product configurator through a plug-in like Expivi.
Or you can order a 3D model from your 3D product configurator software provider (Plattar, Sayduck, Threekit), publish it on their site, copy the embed code and add it to your site.
No coding
No plug-ins
Works across multiple browsers and devices
The process is far more scalable and useful for a 3D content pipeline.
3. 3D Configurator Shopify
Shopify is a fully-hosted eCommerce platform – a SaaS platform offering an all-in-one website solution. They provide the hosting and templates to build your website.
Shopify 3D product configurators have proven to be very effective: sellers using it have increased sales by as much as 250%.
Again, you can add a 3D product configurator to Shopify through a plug-in or you can order a 3D model from your software partner, publish it on their website, copy the embed code and add it to your site.
No coding
No plug-ins
Works across multiple browsers and devices
The process is far more scalable and useful for a 3D content pipeline.
4. 3D configurator BigCommerce
BigCommerce is a fully-hosted platform like Shopify, and one of the fastest-growing eCommerce platforms in the world.
You can add a 3D product configurator through a plug-in like Spiff 3D product configurator.
Or you can order a 3D model from a company like Plattar, publish it on their site, copy the embed code and add it to your site.
No coding
No plug-ins
Works across multiple browsers and devices
The process is far more scalable and useful for a 3D content pipeline.
3D Configurator Software Capability
This software has incredible potential – let us show you:
| | |
| --- | --- |
| Reduce marketing costs | By using 3D product configurators, the costs associated with marketing (photoshoots, campaigns, etc.) go down as 3D product configurators serve as a better alternativeAllows companies to separate themselves from the competition |
| Increase conversion rates | 3D product configurators increase conversion rates by as much as 40%Customers are 11-times more likely to purchase when using 3D product configurators |
| Increase user engagement | Up to 6x increase in the amount of time spent on a page |
| Reduce stocking costs | By allowing the customer to customise the products, companies can reduce the size of their stocks and the costs that accompany itBy making products only after they've been ordered, the need for warehouses decreases dramatically |
| Reduce returns | 3D product configurators drastically reduce returns |
3D Product configurator software functionality
Now that you have a better idea of the results 3D product configurator software can deliver, which functions should you be on the lookout for?
| | |
| --- | --- |
| View products from any angle | 2D product images aren't as immersiveThe customer does not get a good sense of the productCan lead to unpleasant surprises when the product arrives |
| Customise colours, textures, and components of the product | Clients can adjust the product to their desiresWorks very well for more complex productsAbility to show off the range of different product features |
| Adjust pricing of product In real-time | Adjust the pricing as customers are customising the productEnsure they always know the cost of the productCan simplify a complex pricing structure |
| Combine with AR | Combining a 3D product configurator with AR allows customers to embed the products in their chosen environmentAllows customers to get a better sense of the productIncreases buyer confidence |
| App option | By creating apps or adding 3D product configurators to existing apps, you are adding another dimension to your user experienceCustomers can combine 3D product configurators with AR to embed their products in their environment |
Online 3D configurator user experience
1. La Marzocco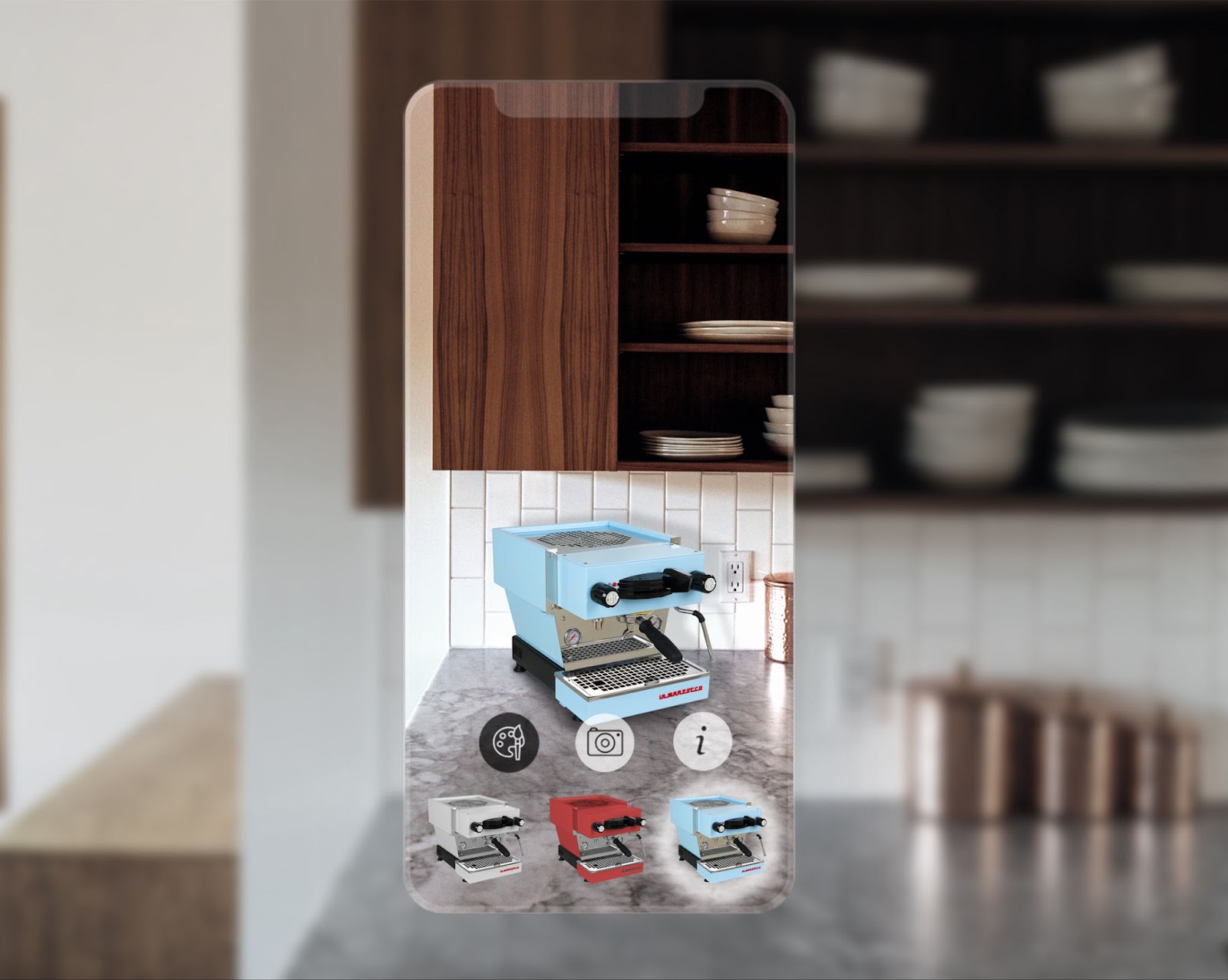 When it comes to selling products online, La Marzocco found itself facing a formidable challenge.
The company sells coffee machines straight to consumers. But these are not just your everyday coffee machines – they are nothing short of state-of-the-art masterpieces.
Such quality comes with the price tag to match. Their Linea Mini line of coffee machines costs $5,000, so La Marzocco had to find a way to give their customers a chance to see how the machine would look in their homes.
So they built an app, in collaboration with Plattar's 3D product visualisation suite, and gave the customers a chance to see the Linea Mini in their kitchens, inspect every part of the machines, and adjust the colours and certain parts of the machine.
Their 3D product configuration feature has been instrumental in decreasing shopper hesitancy and raising their online sales.
2. Tesla
Tesla is the great disruptor. The company has worked long and hard to curate that image and position itself as an organisation at the forefront of progress and innovation.
It shouldn't come as any surprise that they've opted to incorporate 3D product configurator software within their selling process.
Customers can go to Tesla's visual configurator straight from the homepage and go through a five-step customisation process that couldn't be simpler. Before they know it, customers have purchased a custom Tesla, and the customer-focused approach can do nothing but help the company's bottom line.
3. Burrow
Burrow is an online furniture retailer that wanted to separate itself from its competition and attract the type of young urbanites that made up the majority of its customer base.
Burrow designed a line of modular furniture – but what does that mean, exactly?
It means furniture that can be adjusted to fit the style of their customers, and one that can be changed later. If the customer's need changes over time, they can simply buy additional pieces of furniture to suit their new needs.
Now, this is an extremely useful feature of its products, so the company needed a good way to show off this advantage.
Enter 3D product configurator.
By allowing its customers to customise their products online and combining them with AR to place those products within their chosen environment, it has succeeded in providing an immersive experience that highlights the best qualities of its products.
3D Product configurator for eCommerce selection criteria
1. Ability to customise
Since you're looking to select a 3D product configurator, it's important to ensure that the software can indeed configure.
There's no point in acquiring a 3D product configurator if it won't highlight the best aspects of your products and show the full range of options available to customers.
When searching for the right 3D product configurator for you, ensure the configurator shines a spotlight on your product's key features – examine how well it accomplishes this task.
Is the 3D product configurator known to lag and glitch, inducing migraines in customers waiting for their customizations to materialise on the screen?
Can your pricing structure be fully integrated with the 3D product configurator to ensure your customers know how much the product costs at every stage of the customisation process?
2. Developer documentation
Developer documentation describes every part of how clients should interact with a given software service. When you read the documentation, you're supposed to learn how to use the program.
The availability of documentation is a must. There's no way around it.
You need to know what you're dealing with, how it works, and what to expect in the future. The information needs to be easily accessible to ensure a smooth knowledge transfer.
Your team will have to become intimately acquainted with the workings of the software and know what steps to take in every situation.
The aims of developer documentation are simple:
Help new users learn quickly
Simplify the product
Cut down on support costs
3. Available SDKs, APIs
Software Development Kit (SDK) and Application Programming Interface (API) are two terms that are sometimes confused.
So let's explain.
API is a software-to-software interface that enables two applications to exchange data with each other. To give you an example, think of how WhatsApp integrated Google Maps so you can share your location through a message.
SDK, on the other hand, is a compilation of software development tools that facilitate the development of applications so you don't have to start from scratch and code everything yourself. We have investigated AR SDKs in detail on our blog.
SDKs are dependent on the platform you are developing them for: Android, iOS, or WebAR (designed for browsers).
SDKs and APIs enable you to develop apps and games for various platforms and in doing so,provide you with an added option that can improve customer experience by utilising the software and hardware on the customer's phone or desktop.
4. Out-of-the-box integration
Let's be honest – none of us wants a piece of software that requires an advanced degree to use.
When choosing the right 3D product configurator it is important to keep in mind how many headaches you'll have to overcome before the software is put to use.
Out-of-the-box integrations make it easier to hit the ground running.
The main benefits of using out-of-the-box integration software include:
Budget-friendly: Typically a lower price point than custom software
Widely available: eCommerce businesses have no trouble finding out-of-the-box solutions used by similar businesses
Proven quality and support: There is a large customer base that proves the software's quality
Faster deployment
Little to no technical experience required
5. Availability of tools to support a 3D content pipeline
Once you've discovered a 3D product configurator that meets your requirements, you need to know if the software offers tools that allow the content-generation process to be scaled.
How easy is it to create and publish new 3D models? What's the time frame for adjustments like that, and how much does it cost?
A platform like Plattar offers its customers a streamlined content pipeline that allows you to create new models with ease and cut down on the time needed to review and test models.
6. Ease of upgrading and updating
You can probably anticipate this issue – your team spends countless hours working to innovate and improve your products and bring these changes to the market.
Ensuring your 3D product configurator can be easily upgraded or updated is an important part of the criteria to keep in mind when choosing the options that suit your company.
Companies like Plattar can give you access to their platform so you can easily manage and edit your 3D assets and publish any changes you make with the click of a button.
7. Compatibility with existing business software
No piece of software that you use at various stages of your business process should exist in a vacuum. For one, it creates unnecessary work as each program has to be updated and adjusted individually.
More importantly, it can be a waste of precious resources and information.
One of the criteria to keep in mind is if the 3D product configurator is compatible with software like Product Information Management (PIM) and Digital Asset Management (DAM).
DAM platforms offer companies the ability to safely store, share, and organise their content from a single location. Of course, it is possible that the company you're buying the 3D product configurator from will also provide that option as part of their services.
PIM, however, is the process of managing all the information required to market and sell products through various distribution channels. A 3D product configurator can be a valuable source of information about customer preferences and trends.
8. Expert tech support
When it comes to implementing new software into your business processes, it's important your software partner doesn't leave you alone on an island to figure it out for yourself.
It will take longer to fully implement the software, it will cost more, and you will lose valuable opportunities in the meantime.
By having a software partner who provides expert support every step of the way, you can ensure your 3D product configurator will hit the ground running.Sleep easy knowing that any issues that might pop up in the future will be solved quickly.
3D product configurators are here to stay
The benefits of a 3D product configurator are too numerous to ignore:
Reduced return rates
Increased conversion rates
Improved customer experience
Increased brand awareness and loyalty
Decreased marketing and stocking costs
Adding 3D product configurators to your eCommerce platform is a no-brainer for any company looking to improve customer experience and increase sales.
If you won't do it, you better believe your competitors will.
Take the next step and let Plattar help lead your company into the future.