4 top 3D product visualisation benefits and software
There's a new kid on the block, have you heard? It's the type of character that is loved by its friends and hated by its enemies.
And it's not hard to see why.
People who work with 3D product visualisers offer an entirely different experience to their customers, allowing them to form a connection by providing an opportunity to visualise their products in context of the buyer's environment through their mobile or desktop devices.

What is your current offer? 2D product photographs and imagination?
2D photography is limited in its capabilities, especially when your competitors are utilising 3D visualisation and AR applications.
But you know this, don't you? That's why you came here.
In this article, you'll learn:
What is 3D product visualisation?
The benefits of 3D product visualisation
Common mistakes with 3D Product visualisation
5 top 3D product visualisation services
What is 3D product visualisation?
3D product visualisation is the process of creating 3D models of your products and allowing your customers to interact with those products by viewing them from every angle.
It is the process that will render 2D product photography obsolete.
By taking a collection of photographs of your product, you can work with a 3D product provider or a 3D artist to create 3D models. These can then be uploaded to your website and added to your product pages.
And the effect is instantaneous. 82% of customers visiting a website choose to activate the 3D view.
And why shouldn't we?
3D product visualisation allows us to examine a product thoroughly and explore its hidden features. It gives us the chance to develop an understanding of what we are buying – increasing confidence and thus increasing conversion.
3D Product visualisation benefits

Talking about the benefits of 3D product visualisation is intoxicating.
There are so many, it makes us feel as though we are in a candy store, trying to decide which piece of pure sugar we should bite into.
We've picked our four favourites for you:
1. 360-degree product view
The 360-degree product view offers a range of opportunities for both companies and customers.
The growing transition from retail shopping to online shopping has meant that companies are in desperate need of tools that have the potential to improve the user experience.
3D product viewers have proven to be an essential part of the solution.
They provide the online version of holding a product in your hands and examining it. Customers can zoom in to inspect the rich details of the product and explore cool features.
It makes customers feel like they are in control of the entire experience and the interaction with the product gives them a more detailed understanding of the product.
All of it leads to increased consumer confidence and a better shopping experience.
And the results speak for themselves:
3D product visualisation leads to 10%-30% higher conversion rates.
increases the time spent on the site by as much as 270%.
2. Lower costs
Product photography is expensive. You have to hire a crew, rent the equipment, pay for shooting and editing. And when new products are introduced you repeat the process again.
For the size of investment, returns are low.
Definitely not compared to 3D product visualisation
For one, 3D product visualisation is much cheaper than traditional 2D product photos. Research indicates that virtual 3D photography is six times more cost-effective than traditional photography.
That's just the beginning. In terms of your return on investment, the increased conversion rates and lower return rates mean that you're getting a far more effective tool at a much lower cost.
Furthermore, 3D product visualisation allows a far greater level of flexibility. You can take a single model and create a hundred (or thousands) of variations. You can upgrade it or update it. Every single addition does not require you to have an entirely new photoshoot, and an entirely new budget to go along with it.
3. Marketing opportunities

Every marketing team has a similar demand:
Give us something that's different. Give us something that'll capture a customer's attention.
3D product visualisation does both far better than you'd expect.
For one, only 1% of retailers say they are using AR, so it's a great way to differentiate yourself from the competition and position your company as a brand that is on the cutting edge of technology.
There's a reason why 64% of marketers are already using or expecting to use AR in the future.
The use of 3D product visualisation creates a more engaging customer experience. The greatest marketing campaign in the world will, in the end, do nothing more than bring visitors to your website.
The problem is that in the eCommerce industry, the bounce rate is around 20-45%.
If you don't want your marketing efforts to go to waste, you need something that'll keep your website visitors engaged and on your page.
3D product visualisers can help. 80% of all end users spend more than one minute interacting with each published webAR experience and 50% spend more than two minutes interacting within a single published webAR experience.
4. Increased conversion rates and lower return rates
There is a massive change occurring in the world of consumer behaviour.
The tried-and-tested methods of the past no longer apply to modern consumer behaviour and companies must adjust to the changing landscape.
An example of a revolution; 44% of buyers desire a seller-free sales experience.
However, this does not remove the need to explain the product, highlight its best features, and point out the benefits that can be gained from purchasing it.
This is where 3D visualisation steps in.
360-degree views and the option to interact with 3D models drastically increase consumer confidence. 83% of consumers rank product imagery as the number one driver of their purchase decision, and lead to higher conversion rates.
Such increases to return on investments alone would be enough to warrant the adoption of 3D product visualisation, but there's more to the story.
We know return rates are the bane of the eRetailer's existence. In some apparel markets, return rates can go as high as 50%.
They are the killer of profit margins, an inevitable evil every eCommerce business learns to accept.
Perhaps they're not quite so inevitable.
3D product visualisation software can halve return rates.
Visualisation enables the customer to better manage their expectations of the product prior to purchase, reducing the probability of disappointment upon product delivery. The costs of returns are reduced as a result.
And beyond simple financial matters, returns are also an environmental concern. Every year 5 billion pounds of returned products end up in a landfill – reducing returns benefit society as a whole, not just the businesses themselves.
4 Common mistakes with 3D product visualisation
As is the case with any new venture, there are a lot of pitfalls that threaten the viability of a project.
The benefits mentioned above can only be realised if you integrate 3D product visualisation to your business process with a well-considered approach.
We want to share with you 4 common mistakes businesses make with 3D product visualisation.
1. Wrong partner
That's just the worst, isn't it? You go out for a dance and end up with someone who won't stop stepping on your toes.
What promised to be a lovely night full of laughter and good music ends with a pack of ice on your feet.
Choosing the wrong partner to help with 3D product visualisation isn't much different.
Most companies don't have the in-house technical expertise or resources necessary to create their own 3D models. They instead turn to a 3D product provider. Depending on the company's needs, 3D product providers can offer end-to-end services or merely help with a part of the process.
Deciding which option you prefer and which option you need is the crucial first step of choosing the correct provider.
The second step is ensuring that the company has the experience and the expertise necessary to provide first-rate service.
For example, companies that wish to adopt 3D product visualisation software often make the mistake of picking a software partner with sub-par visualisation rendering. A 3D viewer that doesn't live up to its expectations is a certain way to ensure that the above-mentioned benefits never make an appearance in your business process.
The third step is learning about the product provider's 3D content pipeline. Can it be scaled? And to what extent?
If your company has hundreds of products with countless variations, how can you expect to scale the process yourself?
Such a challenge either requires a massive investment or a 3D product provider who can handle the workload and offer a simple way to create, manage, and publish 3D models.
2. Choosing the cheapest option
We've all made this mistake at least once, haven't we?
Maybe you wanted to save some money, maybe you weren't sure about the product, but didn't want to risk missing out.
Whatever the case, it's not the mistake you want to make when it comes to 3D product visualisation, because choosing the cheapest option comes with a number of risks.
The biggest risk is that the quality of your 3D models won't be what you paid for. Are your models true-to-scale? Are the materials and textures representative of real-life and of quality? If the 3D model ultimately isn't photorealistic, where is the benefit?
You'll either give up on 3D product visualisation entirely, or you'll have to start all over again with another partner.
Neither option will save you any money.
But even if you choose the best product provider out there, you will find a number of options within their pricing structure. Choosing the cheapest option might get you the 3D product visualisation you require, but in doing so, you may forgo access to some key interaction features.
Over the long run, a lot of challenges pop up that might make you regret your initial choice.
Apart from losing out on the additional uses of 3D models such as 3D product configuration, virtual 'try-on', you may also lose out on the ability to update your 3D models, create variations of them, and build app-based AR.
So when choosing your 3D product provider and looking over its pricing structure, keep in mind that 3D product visualisation is an investment, not an expense, and plan all the uses you might have for it in the future.
3. Moving too quickly
We can't blame you for this one.
The very thought of 3D product visualisers has many people so excited they want it added to their websites yesterday.
Unfortunately, it doesn't work that way. The adoption of 3D product visualisation software has to come as a phased approach.
That's because companies risk making a big upfront investment to immediately adopt 3D product visualisation only to end up falling behind the market quickly. No matter how much they might wish for it, they don't have the know-how and the resources required to keep up with a market that's rapidly evolving.
The trick is to adopt the basics. Create 3D models and streamline the 3D content production pipeline. You can then begin to integrate new features into the existing framework and move to advanced market-leading solutions.
4. Not monitoring the process
Most of the best 3D product providers keep their clients informed through every part of the AR and 3D modelling process. They use online CRM platforms and regularly update marketers, sending the results of photorealistic 3D rendering.
Make sure your 3D product provider offers these opportunities.
Keep an eye on the process and ensure the quality is up to the promised standards. If anything goes wrong, you should not hesitate to intervene. Don't wait until the project is finished.
The mistakes take much longer to resolve afterwards and cost a lot more money.
With that in mind, companies also often forget about guarantees. The 3D product provider should include things such as quality checks, results on time, and protections of your intellectual property if any exist.
That way, your investment is safe, should anything go wrong.
4 Top 3D product visualisation services
1. Plattar
Plattar is a unified 3D platform for companies that require the creation, implementation, and management of their virtual products.
But 3D product visualisation is just the tip of the iceberg.
Plattar also offers:
3D product configuration
Virtual 'try on'
Virtual showrooms
Product preview
By bringing together every part of the process, Plattar is able to streamline your content pipeline by allowing you to update and publish your content from one platform.
Plattar is most suitable for companies looking to publish their 3D content at scale. Plattar's end-to-end process allows its customers to work with hundreds of 3D models that they can distribute to any touch-point they desire. All of this power with a platform requiring no coding experience and a drag-and-drop editor.
Plattar has helped businesses in manufacturing and retail, as well as clients selling electronics, furniture, and appliances. Subscriptions begin from $149/month.
2. ThreeKit
Threekit is a visual customer experience platform that allows eCommerce companies to create and scale 3D rendered images.
Threekit provides specialised 3D product configuration for a range of industries, including:
Kitchen and bath
Manufacturing
Luggage
Jewellery
Shoes
Features and benefits include:
Ability to turn, spin, and zoom in and out of product images
Nested configuration to reduce complexity
3D asset management by storing your product data within the Threekit platform
Ability to automatically generate manufacturing outputs such as bill-of-materials, assembly instructions, and cut patterns
Threekit offers custom pricing depending on the specific project and the needs of the customer.
3. Viscato
Viscato provides high-quality, photorealistic product renderings aimed at helping architecture, advertising, and technology companies.
Viscato offers an array of services that includes:
3D modelling
3D floor plans
3D product renderings
3D exterior visualisation
3D interior visualisation
Viscato offers a simple pricing structure, though potential clients should contact the company to receive an accurate offer based on their needs.
4. Poplar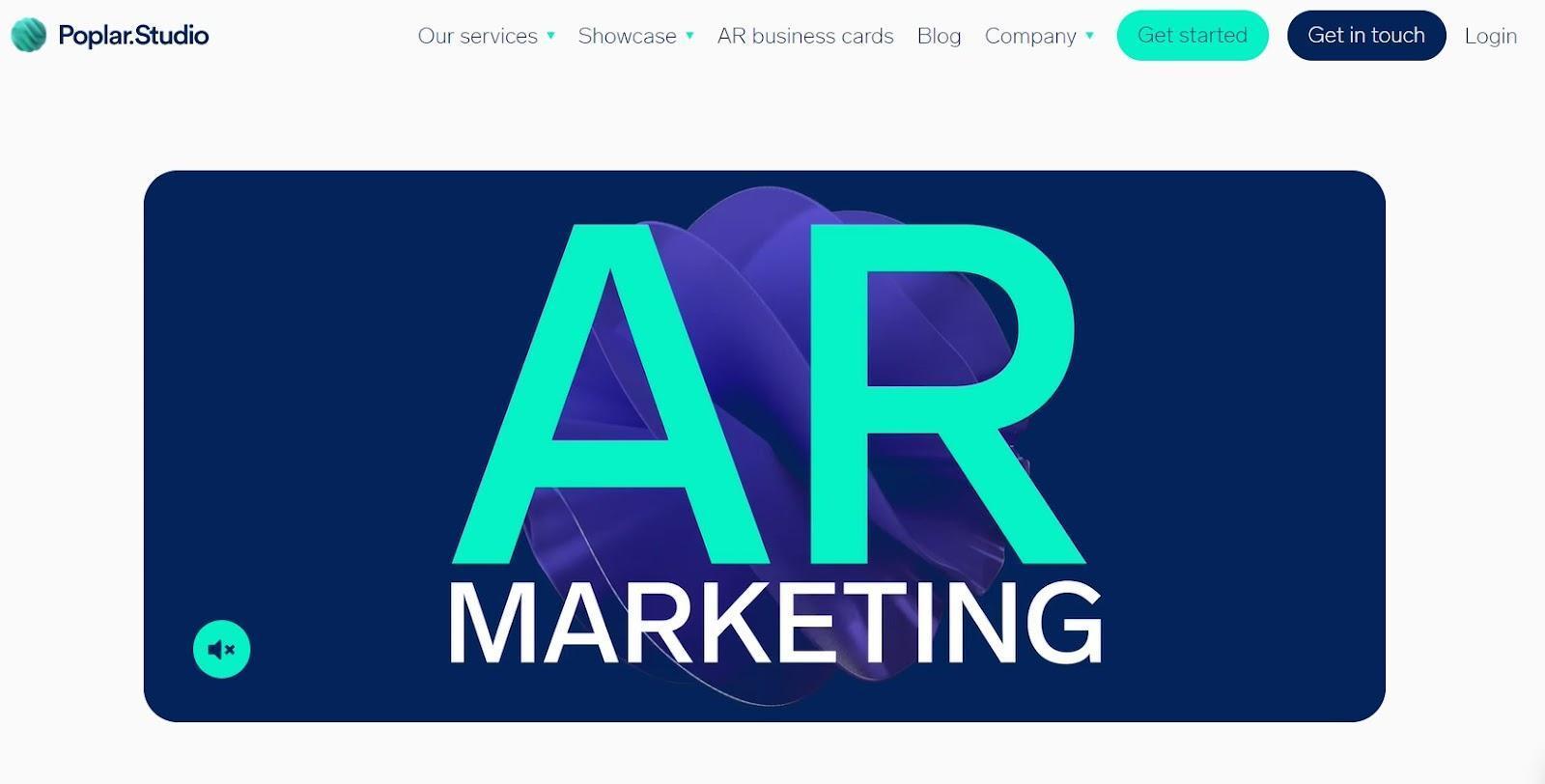 Poplar is an AR and 3D creative platform trusted by many brands.
Poplar offers end-to-end 3D product visualisation services that allow clients to embed the code within any website by means of a drag-and-drop editor.
Poplar offers a number of AR features for eCommerce companies that include virtual try-on, AR games, 3D product visualisation, and more.
To get a sense of Poplar's pricing, potential customers must contact the company to receive an offer.
FAQ
What is a good example of 3D product visualisation?
While the biggest driver behind 3D product visualisation implementation is focusing on the consumer, 3D product visualisation still has its place in the B2B world.
KFive is a good example. With over 75 years of experience, the company combines its knowledge of technology and interior design to create innovative products.
Kfive has showrooms in Melbourne and Sydney, but they wanted to add another dimension to their sales process. How might they reach people who cannot visit their showrooms and see the products for themselves?
Plattar provided the solution. Creating 3D reconstructions of their products, KFive has been able to offer their online customers a chance to examine their products from every angle and achieve greater confidence to purchase.
It is innovations like these that have led to a 274% increase in time spent on pages for websites using 3D viewers.
How effective is 3D product visualisation?
3D product visualisation has a profound effect on every aspect of online shopping. Increased conversion and customer engagement, lower return rates, more time spent on websites, and on it goes.
All these factors make 3D product visualisation an absolute necessity for any company wishing to survive the transition into online retailing.
Start realising the benefits of 3D product visualisation
With all the benefits and facts mentioned above, there is little else to add.
Augmented reality experiences are the future of eCommerce, and 3D product visualisation is the first step on the road to adopting augmented reality and adding it to your company's business process.
Through 3D product visualisation, you can gain a greater level of understanding of how AR and 3D models work. You can begin to develop the necessary processes within your own company and prepare yourself for further adoption and development of AR in the future.
Take the first step of your 3D product visualisation journey today and contact Plattar for a demo.