Our top 6 Augmented Reality trends for eCommerce
We all know the feeling – one day, you come to school, and suddenly everyone's wearing a specific style, or listening to some music you've never heard before, or laughing about a movie you haven't seen. The commerce world works the similarly.It has its own trends and falling behind doesn't just mean feeling left out like it did in high school. Commercially it means your company is missing an opportunity to maximise revenue.
Augmented reality (AR) is taking the retail world by storm and in order to keep you up to date and not feeling like you did in high school, we're recommending which AR trends to pay attention to for your business to remain competitive.
In this article, you'll learn:
Top 6 AR trends for eCommerce and how to use them
FAQ about AR trends
Top 6 AR trends for eCommerce and how to use them
AR trends have emerged as a direct result of various eCommerce pain points that companies need to address. AR is beyond a trend or fad – it is integral to the future of eCommerce.
They are a combination of company needs and customer expectations that augmented reality tools are uniquely positioned to answer.
With that in mind, let's dive in.
1. Virtual showrooms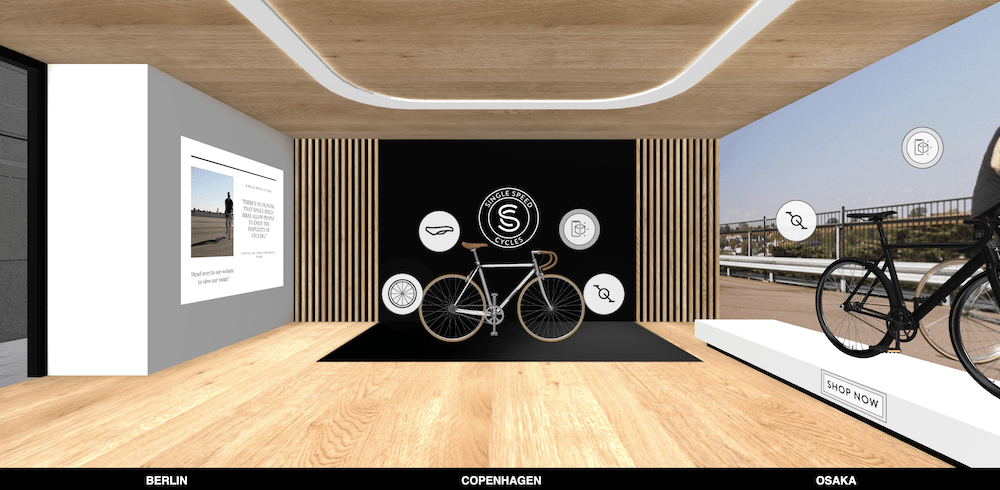 Virtual showrooms are a relatively new AR trend, one that has been steadily growing in importance over the past couple of years, especially since COVID-19 hit..
Whether companies are selling their products to retail buyers, or directly to the final customers, virtual showrooms answer a particular need.
The pandemic forced many tradeshows and events to be cancelled. As a result, companies had to find another way to share their products with customers. They needed a way to exhibit their products that went beyond simple product pages on websites. They needed a chance to present their products in the best possible light and give their customers a chance to interact with them.
Virtual showrooms were a needed solution to gathering businesses and their products while adhering to pandemic restrictions.
Virtual showrooms are an innovative solution that allows customers to engage and buy products through an online platform. Previously, companies had to schedule numerous appointments with their retail buyers, now brands can set up their digital showroom and upload their collections, allowing retail buyers to visit at their leisure.
Once there, they can take a virtual 'stroll' through the showroom, and with unique 3D visualisation tools, they can 'pick up' various products and examine them from every angle.
Even better, multiple buyers can view and buy a certain product at the same time, removing the constraints of real-world scheduling problems.
There are clear benefits as digital spaces are less expensive than renting a physical space, and they're also the safest option available.
These are a few contributing factors to why 70%-80% of B2B decision-makers prefer remote human interaction.
And there are numerous examples of brands utilising virtual showrooms to streamline their business operations and improve the customer experience.
Tommy Hilfiger was one of the first clothing brands to adopt the trend in AR. The company wished to offer its retail buyers the first-rate experience while at the same time reducing the costs of samples.
Their strategy paid off. Since its launch, the company has brought numerous customers into the world of digital selling, while their physical samples have been reduced by up to 80%.
But Tommy Hilfiger is far from the only brand to recognise the value of this AR trend.
Other companies include:
Diesel
Laude the Label
Westport Group
Havaianas
BMW
Audi
NuORDER
Virtual showrooms provide an opportunity to reach both retail buyers or final customers,
It's no wonder it's become such a popular augmented reality trend.
2. Virtual Try-On
During the dawn of online shopping, brands faced a challenge.
The challenge was simple: how do we convince people to buy shoes or clothes or sunglasses when they don't have the option to try them on and see how they fit?
The answer these brands came up with was 'free returns'. It was the correct decision… at the time.
Consumer hesitancy was at an all-time high and people were sceptical of online shopping and all the risks that came along with it. By assuring customers that their money would be returned if the products didn't match their expectations, companies removed an important obstacle on the way to a purchase.
Since then, the uptake of online shopping has been immense, and product returns have been a necessary evil. It was the only way to fuel online sales and reduce buyer hesitation. Returns remain a concern for retailers – and it's easy to see why. In some apparel markets, return rates can reach up to 50%. Across the eCommerce industry, a quarter of customers return up to 15% of all products they buy.
Return rates on such a level are enough to cut into even the most sturdy of profit margins, and as a result, the entire eCommerce industry needed a solution to address the issue.
And that is how virtual 'try on' became an AR trend.
Best suited for wearable products such as clothing, shoes, sunglasses, and even makeup, virtual 'try on' allows customers to see how a certain product will fit.
All they have to do is open the company's app or webAR, turn on the camera, and choose the product they wish to try out.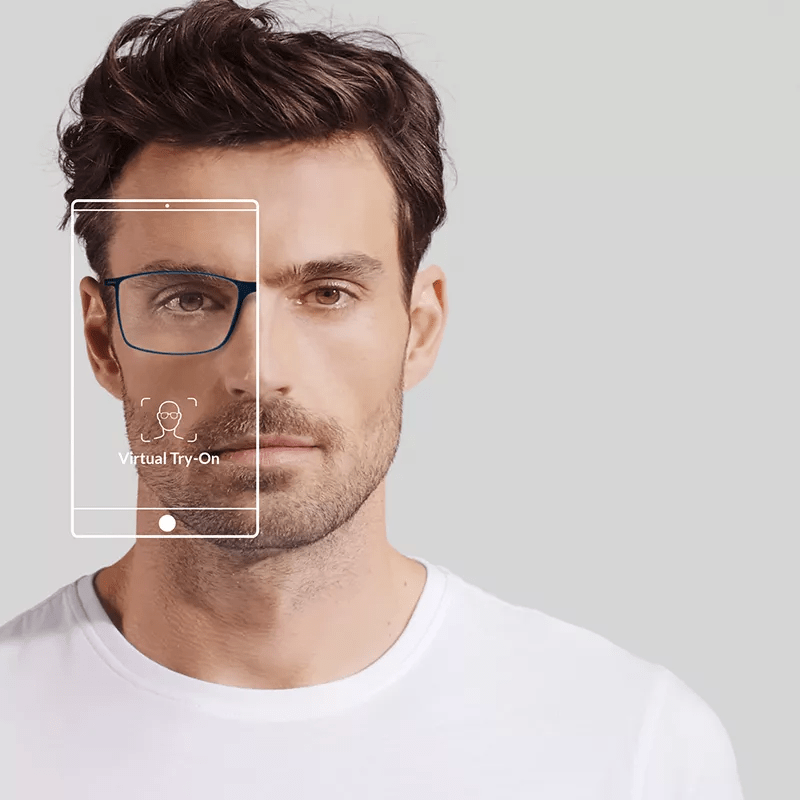 The AR program scans the customer's face or body and adds the product to the image, showing the customer exactly how they will look wearing it.
Virtual 'try on' is a game-changer as it improves the customer experience and, most importantly, cuts those return rates by as much as 64%.
Reduced return rates have fuelled the rise of virtual 'try on' experiences, especially because the pandemic has impeded in-store experiences.
That is why companies across the eCommerce industry have begun to implement virtual 'try on'.
Here is a small list of companies fueling this AR trend:
Nike
Michael Kors
YouCam Makeup
L'Oreal Paris
Timberland
Baume
And on it goes. Furthermore, Google Trends suggests that the search term Virtual Try-On has more than doubled in popularity over the past couple of years.
3. Interactive user manuals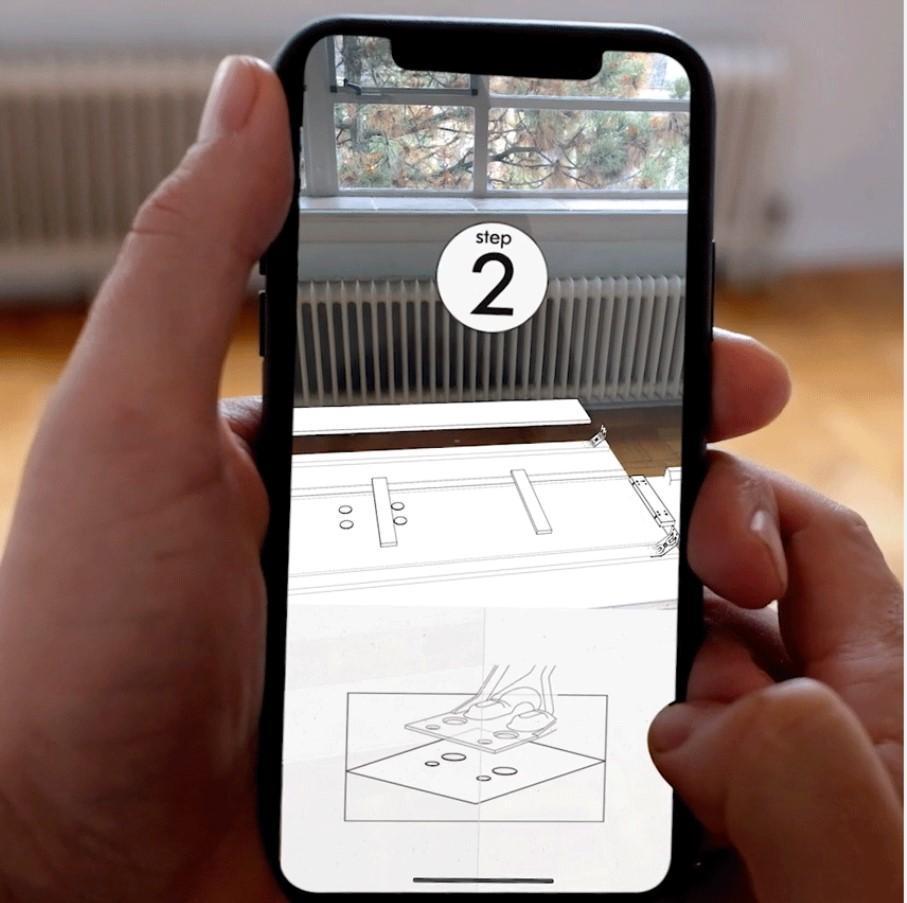 Who hasn't been forced to endure the headache that comes with trying to decipher a user manual or understand a YouTube instruction video?
It's a problem everyone faces at some point. Through a trial-and-error process, we slowly begin to learn about and understand the products we're using.
For the longest time, we've had no choice but to endure the frustration and the annoyance that came with assembling or learning to use a new product. Perceived complexity in the use of the product influences the decision to return the purchase.
But there's a growing AR trend out there that might put an end to all of those issues.
Interactive user manuals are not the flashiest tool augmented reality has to offer, but they very well may be one of the most useful customer-oriented options available in the AR arsenal.
Interactive instruction manuals superimpose a computer-generated image on a user's view of the real world, using advanced computer visualisation techniques with deep learning capabilities. By creating this mixed reality within the user's device, AR user manuals can guide the customer through the step-by-step process and remove the needless complications that usually accompany it.
Interactive user manuals encompass initial setup, configuration, maintenance, and so on. The AR technology allows customers to feel more self-reliant and confident to tackle any issues that might arise when using the product.
These benefits have a flow-on effect for a business. Interactive user manuals can ensure fewer calls to customer service, reduced returns due to the lack of customer know-how about using the product, and fewer cases where a technician has to be sent to the customer's home to help.
Interactive manuals have a place in business processes as well. They empower sales teams, providing them with a powerful tool to showcase and explain the functions of a product to potential customers.
They have a place in manufacturing where AR can help guide the maintenance teams through the repair process, alerting them to potential problems and offering step-by-step solutions.

Interactive user manuals can also help with the training of new staff, providing them with a much-needed option of learning in a safe environment that doesn't take up too much of the company's time and resources.
| | |
| --- | --- |
| IKEA's AssembleAR | Offers customers a step-by-step AR guide to assembling their products. |
| Nespresso | Adopted an interactive user guide on how to use their coffee machines. |
| Leybold GmbH | Adopted AR solutions for training and maintenance |
| Hyundai | One of the first car companies that added AR to the owner's guides and launched an AR manual for its cars. |
| Kia Motors | Designed a service application using AR technology and an AR Owner's Manual that aims to improve the driving experience. |
4. Digital product launches
After experiencing a digital product launch, the most frequently asked question is say, "Why didn't we do this sooner?"
Traditional product launches that have been the mainstay of most industries used to look something like this: the owner, CEO, or some other Steve Jobs-looking person stepped upon the stage to the thunderous applause of a room full of industry insiders and journalists.
The aim of the exercise was simple. Present the product, explain its features and benefits, and hope that the articles describing the event will be positive.
Not a bad way to launch a product, but we are all quickly learning that we can do much better.
After all, there are some questions that need to be answered. Why present the product only to industry insiders and not to the final customers as well? And why launch the product in front of five hundred people when you can launch it in front of five million?
Although digital product launches were adopted as they offered a safer way for companies to introduce their products to the public during a pandemic, they will continue to be used due to the array of benefits they bring to the table.
Digital product launches enable companies to bring their products to a much wider audience. Take Sony's PS5 online launch. Altogether, the presentation was viewed by some 7 million people.
Better yet, digital product launches offer an array of opportunities that weren't available before. A good example is the use of green screens to create a thrilling virtual environment. Another option is the use of photorealistic animations of your products in action.
Both options present an incredible opportunity for a company to showcase the full extent of the product's capabilities.
Furthermore, with the adoption of digital product launches, the audience can now offer input and interact with the products that are being presented. The audience gets to feel as though they are a part of the show, while the presenters gain insight into their user experience.
And the benefits of digital product launches have fuelled the trend to the point that these days, studies show that 50% of people come across two digital product launches every month!
The rise of this AR trend has been fueled by brands such as:
Apple
Canon
HTC VIVE
Asics
Michael Kors
And the list continuously grows.
5. AR games
Augmented reality games are growing in their popularity and reach. Ever since Pokemon GO burst onto the scene, went viral and achieved 800 million downloads, brands have been looking for ways to take advantage of this exciting new opportunity.
Take the success enjoyed by Hell Pizza: Zombies from Hell. Working with Plattar, the Pizza Chain created an AR game that was fun and simple to use.
When their customers ordered pizza, they could download an app. After the pizza arrived, all they had to do was point the cameras on their devices at the pizza box which triggered the game.
By offering this opportunity, the company created another dimension to the user experience, delighted its customers, and added to the growing list of AR trends.
And the results have been mind-blowing. The app has been downloaded more than 40,000 times, the company has sold an estimated $2 million dollars worth of pizza, and word of this experience has reached over 400,000 people on social media.
AR games are a trend that has an incredible potential to drive user engagement and provide a company with unprecedented levels of organic exposure by catering to Gen Z customers, almost 90% of whom are gamers.
And other companies are following this AR trend, including:
Snickers
Pull & Bear
AirAsia
Puma India
6. In-home visualisation
Preview placement isn't so much a slowly growing trend as it is a volcano that has exploded upon the eCommerce world, changing it forever.
Preview placement is a beautiful example of technology swooping in to solve a pain point and improve the experience for all parties involved.
In the past, customers relied on 2D product pictures to imagine how the products will look in their homes. They pulled out tape measures to see if the couch would fit and arguments with loved ones would erupt.
Ultimately customers still visited a retail store to complete their purchase. Various brands tried to entice customers to pull the trigger over the internet, but the importance and the size of such purchases left many unwilling to take the risk, even if they were offered the opportunity to return the products.
Because getting back your money is one thing but having to haul a couch in and out of the house is just not worth it.
Product visualisation effectively solves this issue.
By giving customers the option to examine a product from every angle and then place it in their chosen environment, AR visualisation has eliminated much of the guesswork, giving customers full confidence to order big and expensive products online.
Preview placement allows customers to see what that couch or that coffee machine would look like in their homes, increasing customer loyalty, customer confidence, and conversion rates.
Coupled with 3D product configuration, customers get to adjust the product to their needs, taking their shopping experience beyond anything brick and mortar shops can provide.
A good example of a company utilising this AR trend is La Marzocco. The company sells coffee machines straight to the consumer, but these are $5,000 machines meant to provide their customers with the greatest cup of morning coffee the world has ever seen.
La Marzocco partnered with Plattar to incorporate AR product visualisation into their marketing, providing customers the opportunity to examine their machines in their kitchen and even adjust it to their liking.
This step has proven crucial in decreasing customer hesitancy and increasing their online sales.
Preview placement is used by such giants as:
IKEA
Amazon
Warby Parker
Target
Home Depot
Houzz
Overstock
FAQs
1. Are these AR trends worth the investment?
As with any other investment, your decision-making and management of the project will determine whether or not the investment pays off.
Companies need to be very careful when choosing various options and deciding whether they want to complete the project in-house or bring in an outside 3D product provider.
When done correctly, the adoption of AR trends leads to higher conversion rates, greater customer satisfaction and loyalty, and a decrease in return rates.
Coupled with the 'free marketing' AR can provide a company, AR has the potential to greatly improve a company's bottom line, especially when you consider the size of the investments required to get started.
2. We're past COVID. Will AR trends pass too?
Put simply: Nope.
The pandemic didn't cause a temporary shift in consumer behaviour as much as it expedited the transition of the shopping experience into the digital space.
Much like Amazon has removed the need for customers to ever visit a bookstore again, AR is bringing the same revolution to the rest of the retail and commercial sector.
AR statistics prove it.
| | |
| --- | --- |
| Increased user engagement | 34% of users interact with a 3D viewer for more than 30 seconds. |
| Increased conversion rates | 40% increase in conversions for companies using AR. |
| Demand for AR experiences | 63% of customers believe AR will improve their shopping experience. |
With the improvement in technology and customer experience, brick-and-mortar shops soon won't be able to compete with the benefits of online shopping, and companies that fail to take advantage of present opportunities will have a hard time keeping up with consumer demand.
3. How do I incorporate these AR trends into my marketing strategy?
Outline which trend suits the needs of your business most and find out how crucial the implementation of these strategies is.
For example, adopting an AR game is a great way to differentiate your company from the competition.
On the other hand, for a company selling glasses, the adoption of Virtual Try-On is not so much a marketing option as it is a decision to ensure the company's continued survival.
Conclusion
The rise of the AR trends outlined in this article serves as proof of AR's arrival onto the scene and its determination to stay.
AR trends represent a collection of tools that have a unique ability to improve the business processes of companies and the user experience of their customers. They also demonstrate the future trajectory of how buyers and sellers consume and convey product information within eCommerce.
AR provides opportunities to separate yourself from the competition and position your brand that is aligned with the cutting edge of progress.
Contact Plattar to learn more about how you can implement these trends within your company.