Product Configurator: Benefits and Best Practices For eCommerce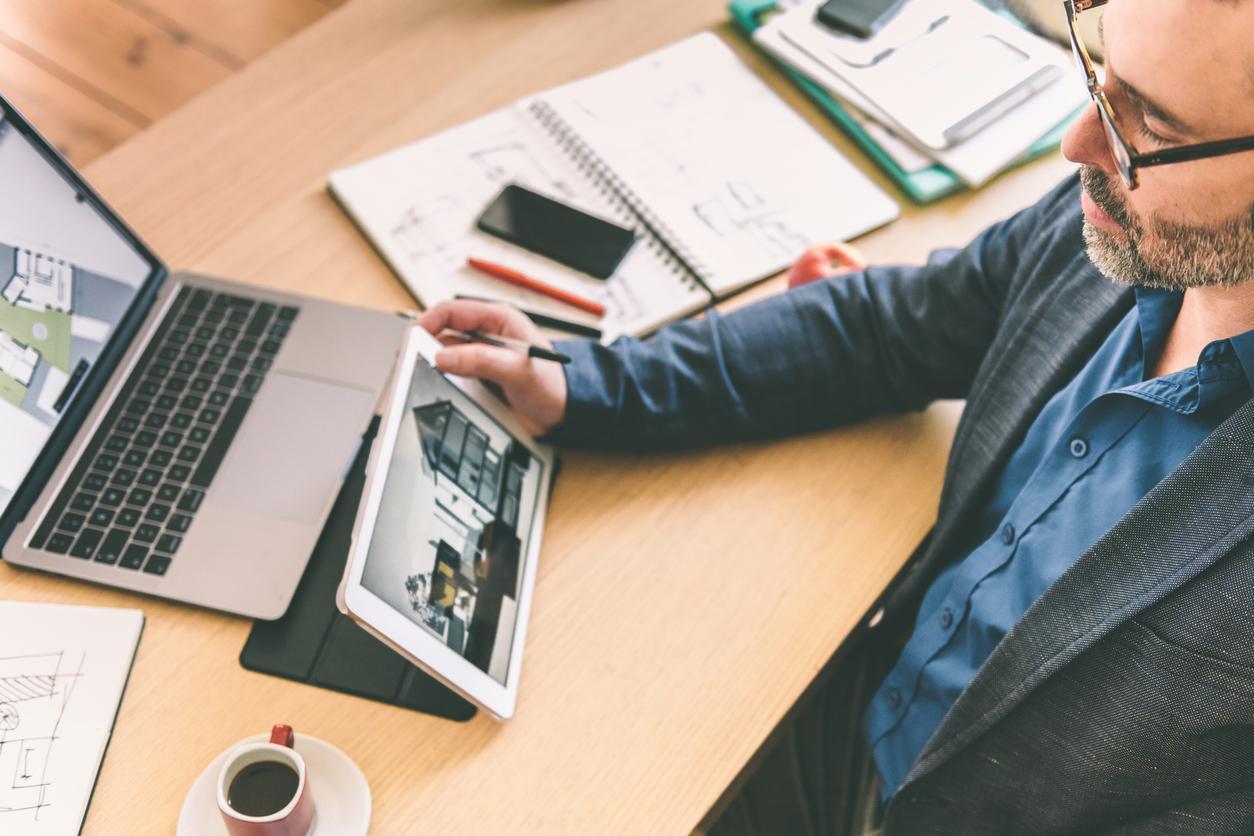 Online shoppers are one picky crowd.
This means you must treat your website visitors carefully and anticipate their pain points.
Is your page loading time too slow? Are your pictures pixelated? Did you forget a few product descriptions? Is your eCommerce platform hard to navigate?
Expect a serious drop in your conversion rates.
Addressing these webshop issues is the minimum – you need to go above and beyond to wow potential customers and win the heated race to the "checkout" button.
One solid strategy is to add a product configurator to all your product pages.
It's pretty much the human equivalent of giving catnip to cats, and it's been shown to:
Interested?
Then keep reading. By the end of this article, you'll have a complete understanding of:
What a product configurator is
Benefits of a configurator
The industries that can't afford to overlook this technology
Best practices for product configurators
The three best 3D and AR platforms in the market
Now from the top.
What is a product configurator?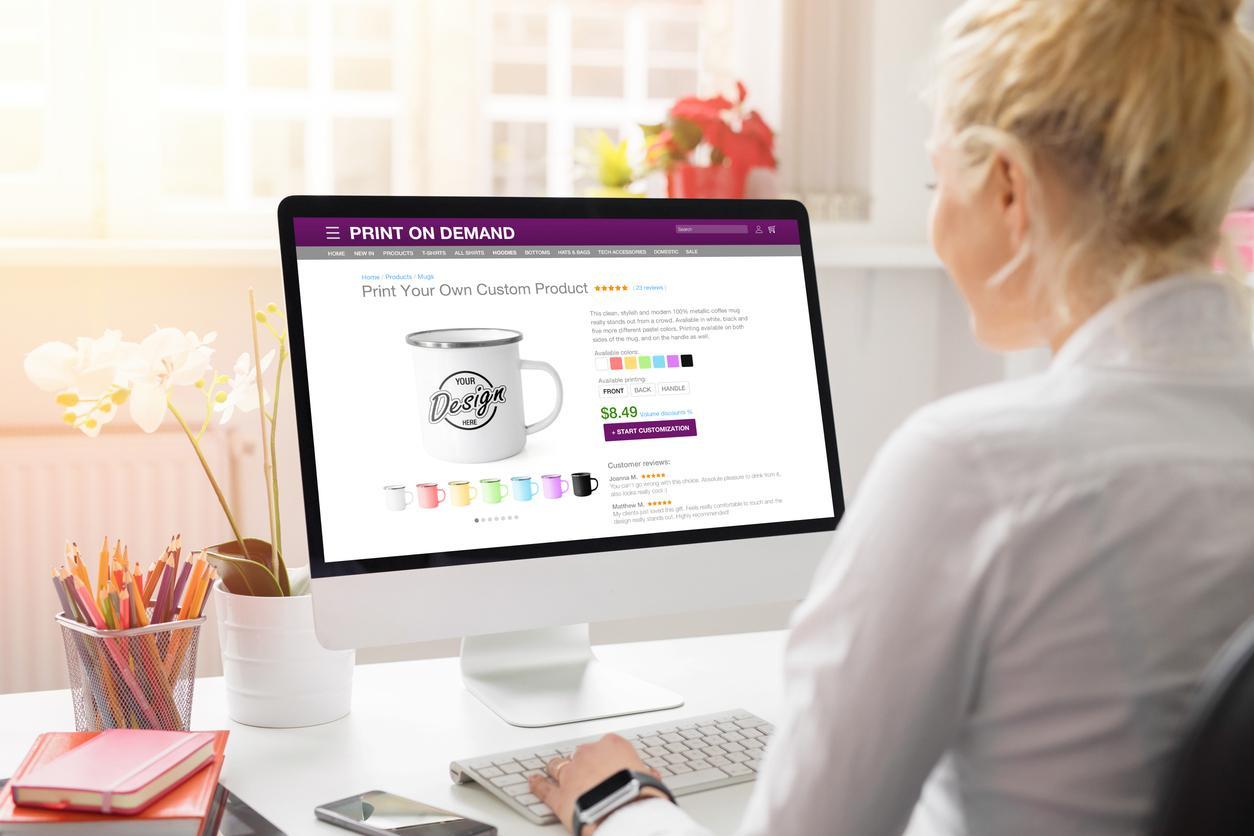 It's visualisation software that enables users to customise an item and see how it changes in real-time.
Companies often use this technology on their websites, eCommerce stores, and apps to complement or replace static pictures.
Generally speaking, a well-programmed configurator will show you the possible variations of a product, regardless of whether these have already been manufactured.
This includes designs, sizes, colours, components, and extra features.
Good product configurators also integrate:
3D technology — for manipulating and seeing items from any angle
Augmented reality (AR) — for placing and previewing products in your immediate environment (i.e. how will that couch look in your living room)
What does that mean for your business?
What are the business benefits of product configurator software?
Let's respond to this one with a handy table.
Are these benefits valid for all industries? Or am I wasting my time here?
You're definitely not wasting your time because every company with an eCommerce store or an active sales force can enjoy these six benefits.
However, your line of thinking is spot on—certain industries stand to benefit more from product configurators, and they can either:
Join the revolution and enjoy the perks of being an early adopter, or
Jump on the product configurator bandwagon when configurators have become an industry standard
So…
Which industries should consider product configurators?
If you saw your industry as you skimmed over that last table, you should think long and hard about sorting product configurator software for your webshop.
It's going to make a real difference.
P.S. If you're already more than sure that product configurators are for you, click here and skip straight to the best practice section.
Four reasons why you need a product configurator
1. Provide a better customer experience
Can a product configurator really make that much of a difference in terms of customer engagement?
After all, it's only a bit of software that previews a few different variations and lets you play around with them. Surely, that can't influence people more than professional pictures, right?
Wrong.
Configurators, particularly those with 3D and AR technology, can revolutionise how online visitors shop because they infuse the buying experience with personalization and hands-on tech (that's frustration-free).
Here's what the research says about AR configurators:
71% of people to shop more often with configurators
40% say they'd pay more for the chance to customise with configurators
66% would like to see them available both in-store and online
And one more thing before we move on:
A Deloitte study found that a whopping 48% of shoppers would be willing to wait longer for their customised products/services to arrive.
Pay and wait more?
It sounds impossible, but it's perfectly feasible if you add product configurators, customisable products, and a lean supply chain to the mix.
2. Lower your photography costs
Nobody likes spending a small fortune on photo shoots.
It's a labour-intensive, complicated, and stressful process (especially with COVID disrupting supply chains) that costs you anywhere between $100 to $400 per photo. And since you need an average of five to eight pictures per product, you…
There's hope in the form of virtual photography. You can reuse the 3D files you made for your product configurator to take thousands of high-resolution, web-ready images from every angle. It can lower costs to 1¢ per image and deliver finished photos up to 21 times faster than conventional shoots without sacrificing quality.
Now that's a win-win investment.
3. Reduce your return rates
An incredible 60% of shoppers aged between 16 and 34 have returned a product in the last year because it didn't match their expectations.
And this so-called "buy five, keep one" mentality is causing many problems, both for individual companies and society at large.

But rather than despair about high return rates and accept them as part of the general cost of doing business, turn to a product configurator platform and lower them.
Product configurators thus have positive externalities on the environment while reducing your operating costs.
Six product configurator best practices
1. Create 3D outputs with high render quality
Never forget about picture quality when rendering 3D models and virtual photographs.
Your eCommerce visitors will notice the difference between a poorly rendered virtual image and a professional shot.
However, it'll be impossible to tell them apart if you take time and nail the following five aspects:
Materials
Textures
Lighting
Shadows
Fine details
That's right — you can save money and still make your pictures look amazing. And to prove it, we'll end this first tip with an image:
Is it real? Is it virtual? You'll never know for sure.
2. Strike a balance between model detail and load time
Quality is fundamental, but you can't expect people to wait patiently for your insanely realistic model to load.
Patience in the internet world is between 3 and 5 seconds—that's all we have nowadays before we bounce to better and faster things.
Maybe you can sneak one or two more seconds of load time if you let visitors know they're waiting to open up a cutting-edge model.
Note: Triple-check your product configurator software works seamlessly across all devices (especially mobile phones) and major browsers (Chrome, Safari, Firefox, and Edge).
3. Ensure your user interface is intuitive and accessible
People tend to either love technology or hate it with a passion.
User interface (UI) is generally the reason why.
Get it right, and your customers will love using your innovations. Get it wrong, and they'll bounce every time they see one of your configurators load.
We tend to live by the following principle when we design our 3D and AR models: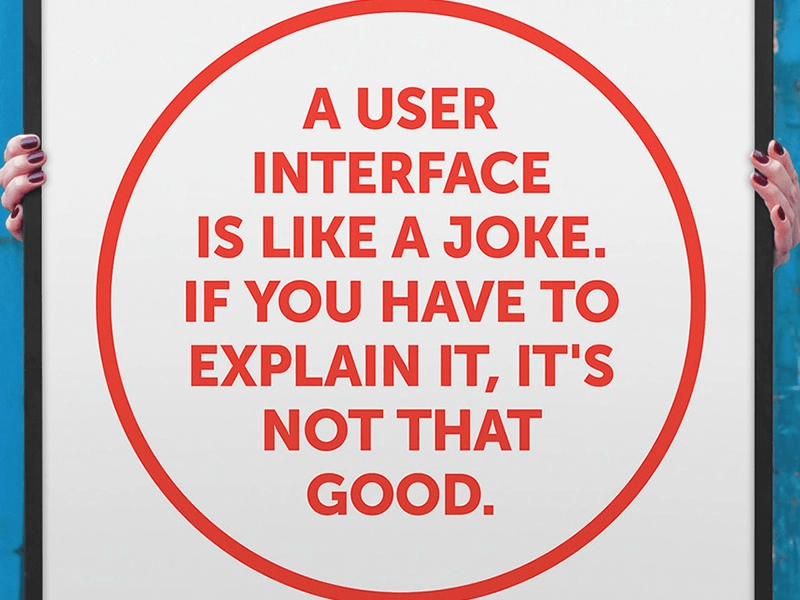 Do the same, and you'll please even the most technologically illiterate shoppers with your beautiful and helpful product configurator tool.
4. Embed your product configurator models
This sounds obvious, and it is. Still, you'd be surprised at how many opportunities go wasted because companies forgo embedding their 3D configurators across their digital assets.
Don't just add one to the product page; get creative and recycle the same model:
On social media
In online advertising campaigns
In internal communication
In virtual showrooms and catalogues
In mobile apps
At an industry conference
In your sales pitches
The more helpful real estate you find for your product configurator software, the better your ROI is going to be.
And speaking of embedding…
5. Make it easy for customers to share configured variants
You shouldn't be the only one sharing your 3D product configurator.
Get your prospects and customers to take over part of the marketing push by making it simple to share personalised models across social media and email.
We're talking about one-click link sharing and attractive preview images.
But don't stop there—ensure users can also effortlessly share a configured product with your sales and service teams. This tactic makes it easier for customers to get assistance and boosts conversion rates if you reply promptly.
6. Build flexibility into your approach to product configurator software
You don't want to reinvent the wheel whenever you need to make a model for a new product. You would waste way too much time and effort.
So rather than building your own product configurator or commissioning a custom solution, we recommend you go for a highly flexible SaaS platform solution.
These tools enable you to easily apply business rules to your configurations and share materials, textures, and pricing considerations across product families.
And they're surprisingly affordable, but more about that later on.
Three product configurator examples from top companies
We'll explore three examples of product configurators we mentioned in the "Which industries" section and give you some much-needed practical context.
1. Bamford Watch Department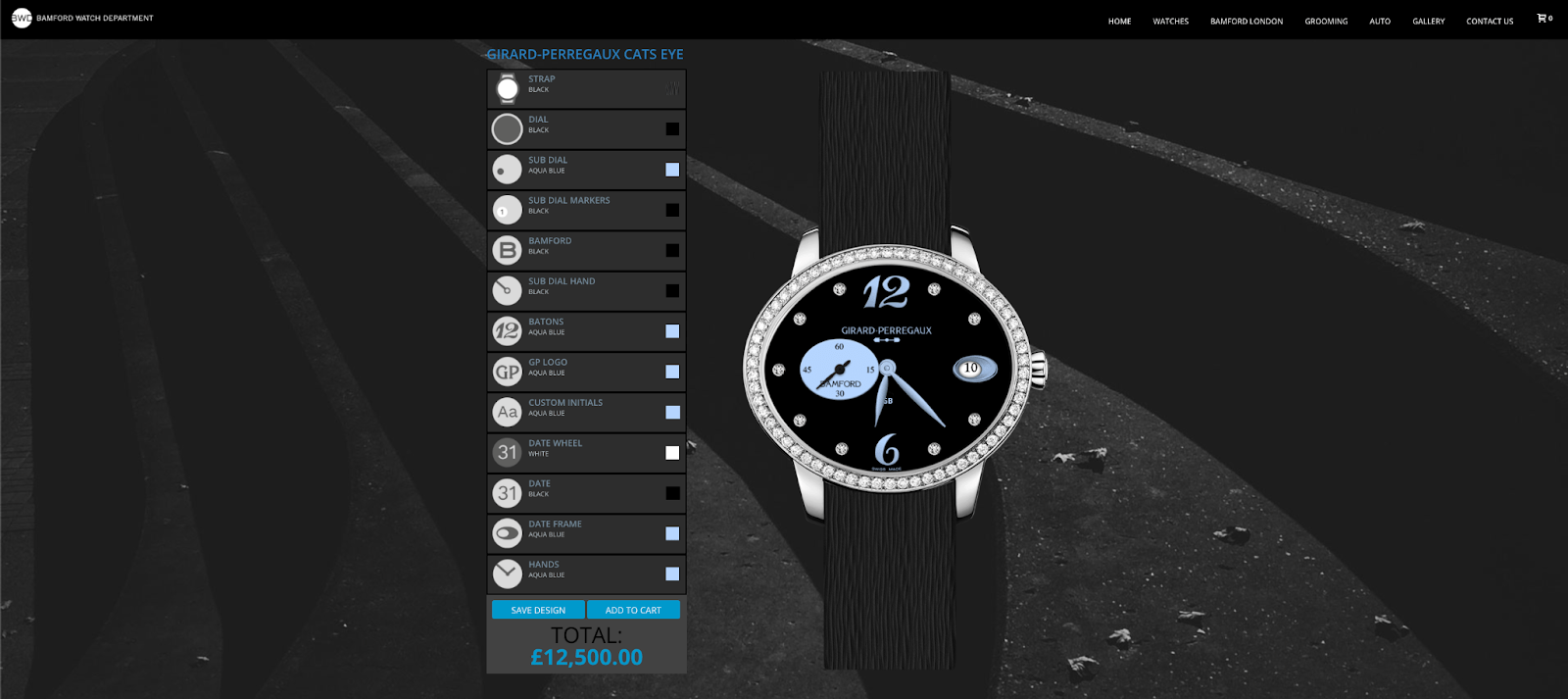 First up is a London-based luxury watchmaker, Bamford Watch Department.
They use a modern point-and-click product configurator to rekindle the (nearly) lost art of bespoke watchmaking.
They offer customers a truly unique experience, where they get to personalise watches from some of the world's most prestigious brands. There are up to 20 customizable elements, each with several potential options, and the configurator is quick to load and update after each change.
The watches even show you the current time in your location. Not bad, not bad at all.
2. Tesla Automotive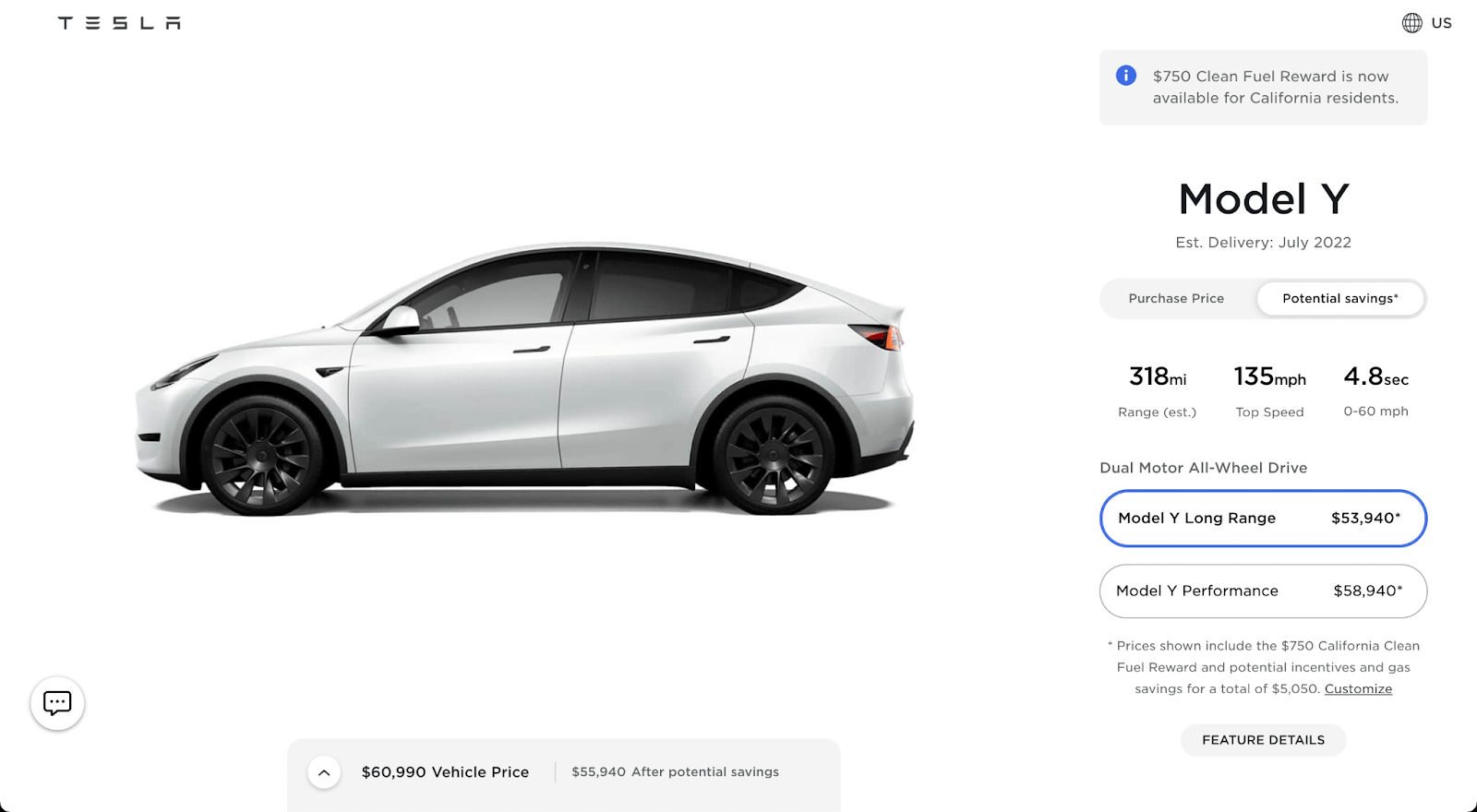 Next up is Tesla.
They're one of the most innovative players in the automotive industry, so it's no surprise they haven't stopped at swapping from gas to electric plugs.
Tesla has also revolutionised the way customers shop for luxury cars online. How?
By reducing a once-complex journey into a simple seven-step process that's as straightforward as ordering a new iPhone from the Apple store. Simply choose:
A model
An engine
The colour
Wheels
Tow Hitch
Yes or no on the full self-driving capability (this really exists)
Your payment plan
And boom, you're on your way to owning a brand-new electric car.
Plus, you can be 100% confident you made the right choice thanks to Tesla's superb-quality product configurator.
3. Lilitab Enterprise tablet solutions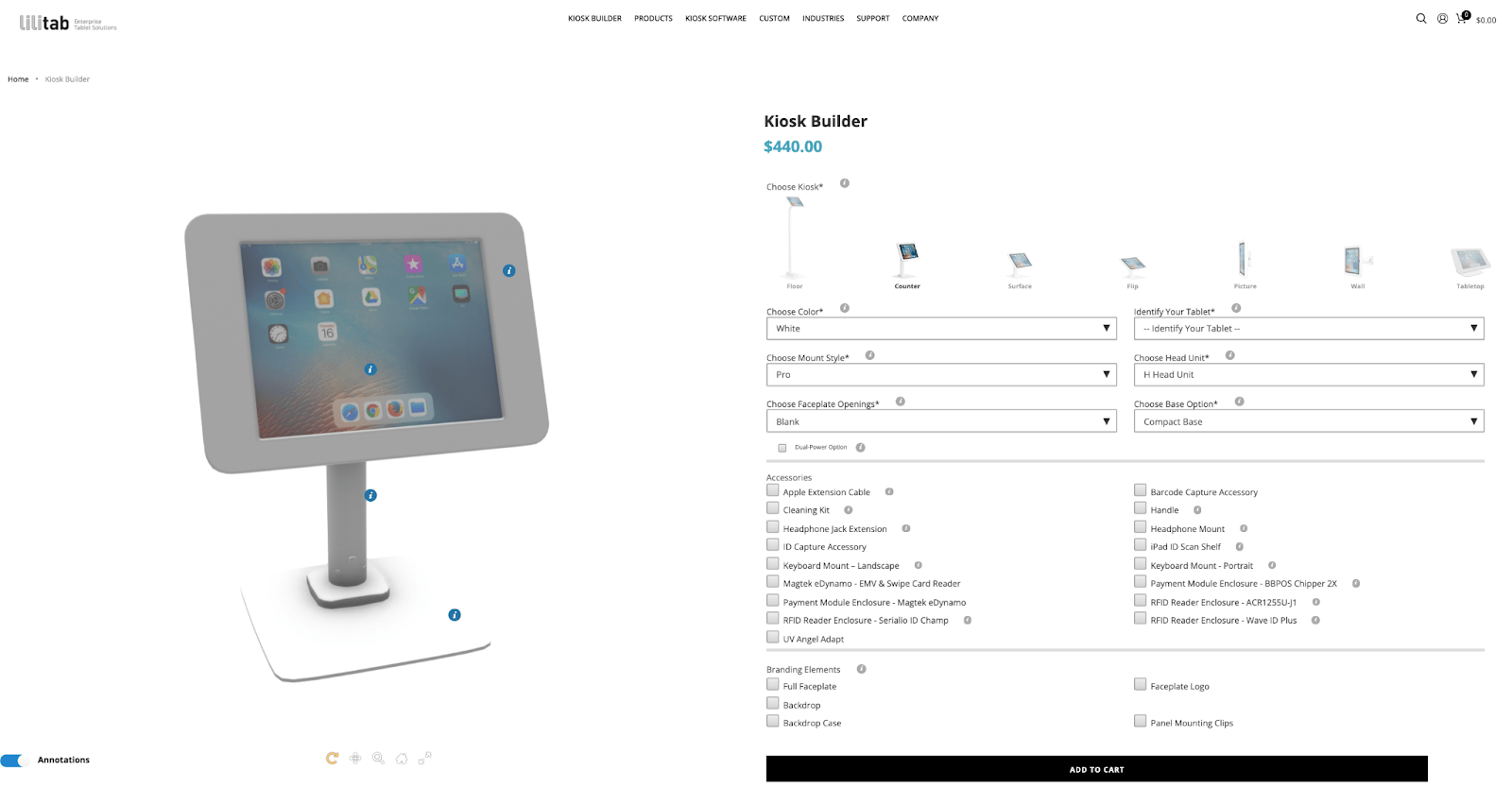 Last but not least, Lilitab is making waves in the exciting world of kiosk tech with its interactive product configurator.
This tool helps website visitors visualise Lilitab's seven product variations and customise them to their exact needs. We particularly like:
How sharp the images are
How flexible the model is
The informative text pop-ups
However, we must mention that this model is a tad slow to load, which could drive some visitors to bounce before they ever see the excellent configurator.
The best product configurator tools: comparison table
We promised you we'd talk about SaaS product configurator platforms and their costs a little while back.
Enjoy this quick table that summarises our three favourite SaaS configurators.
And full disclosure, we've included ourselves in the running because there's no space for modesty in the 3D/AR world. We'd be doing our hard-working colleagues a dishonour, and you might never find out about a proven solution that could transform your eCommerce platform. It's not worth the risk, so you'll have to forgive us for some self-promotion.
But what if you're wondering about how to build a product configurator platform in-house?
Is that even feasible? And how much would it cost?
Yes, you can choose to go down that route, and it'll cost you approximately $3k to $500k.
That's a wide range, we know. It's because many variables are at play when scoping and pricing a project of this nature. Things like:
App type (maker-based, location-based, or virtual odometry)
Content creation
App complexity
Software licences/software development kits
Discovery and development services
Deployment
Maintenance and updates
We can't pull a number out of a hat.
However, we've penned an article on the subject—a detailed look at the total cost of ownership of AR platforms—covering everything you need to know.
Final thoughts and next steps
Congratulations for sticking it out and learning all about product configurators – are you worried you've already forgotten something important?
Don't be, as we've prepared a lightning-fast recap table that's going to cement all of today's major points in your memory.
You'll love it because you'll finally get to visualise the benefits of an online product configurator and see which one fits your organisation best.
Contact Plattar to book a demo and see how the top SaaS platforms work in practice.