Top Four Powerful Augmented Reality Concepts for eCommerce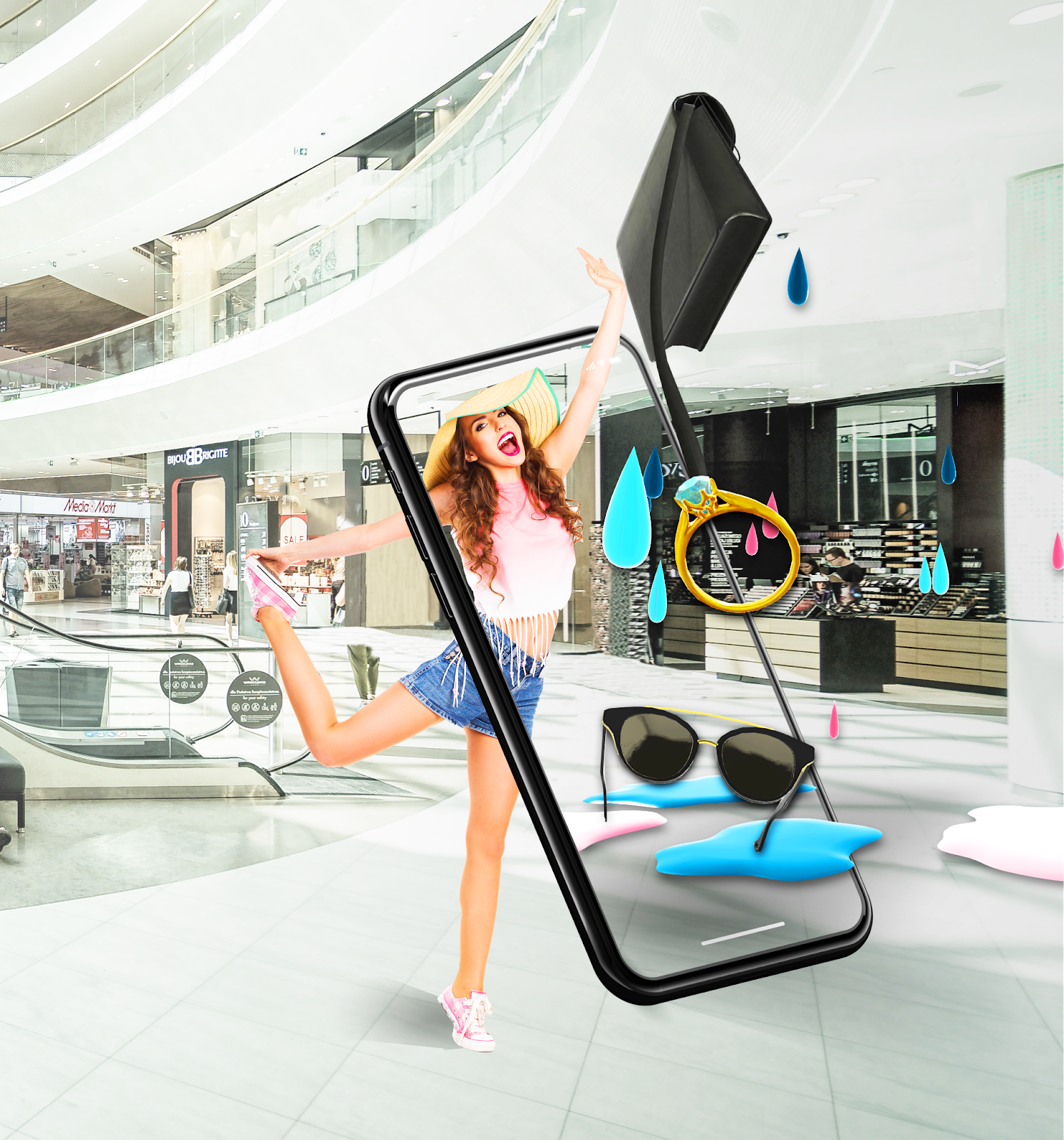 AR is an emerging industry.
Businesses are still assessing the technology and how it can solve their business problems. As far as eCommerce goes, we're talking:
Product visualisation
Displaying all the product colours and sizes
Reducing return rates
Improving customer experience, etc.
All important issues AR can solve, but there's more to it.
The AR concept is a bit more complex.
Simply saying yes to AR would be like ordering a steak without further specifications. Sure, that will still get you a steak, but will it be the medium-rare you imagined when you ordered it?
No need to gamble.
There are quite a few AR concepts out there.
By the end of this article, you'll know just how you want your AR cooked and where to get it for the best results.
Introduction to AR concepts
Imagine you need to buy a desk.
You kind of know what you're looking for, but you'd like to see different options and, ideally, picture them in your home.
Traditionally, you'd have two ways to do this:
Go in-store and see what you can find. It's a bit inconvenient, and you'd still have to imagine how your favourite desk would fit, but at least you'd see it.
Browse online stores and base your final decision on product images and measurements. More convenient, but only if you get it right the first time.
With AR, the customer unlocks the secret third option: visualise the product in your own home using your device and customise it to your taste.
Let's take a look:
| | | |
| --- | --- | --- |
| | Pros | Cons |
| 1. In-person store visit | You can see the available products for yourselfIf it's a smaller item like clothes or apparel, you can test it out before buyingBuyer confidence | Inconvenience – you have to go to the storeLimited optionsVisualisation is difficult for bigger objects like furniture (i.e you can see the fridge but can't picture it in your home) |
| 2. Online store without AR | ConvenientRemoteEasily-accessibleMore optionsAffordable | Product visualisation is difficultNo try-onsLower buyer confidenceRisk of returns |
| 3. Online store with AR | ConvenientRemoteAccessibleEasily display all of the product optionsTry-ons possible for certain kinds of productsHigh buyer confidence and low returnsEngaging UXVisualisation is taken care of | Potentially expensiveRequires a specific set of skills or expert help |
You can see why we like option #3, right?
AR technology lets people shop from the comfort of their homes without making a leap of faith or sacrificing the ability to test the product.
In fact, AR uniquely and fully bridges that visualisation gap by combining your real-life surroundings with realistic 3D models you can layer on top – like an instagram filter.
Better yet, this simulation doesn't require fancy hardware. AR can be accessed via most phones and tablets.
This opens up a realm of possibilities for your customers. They can simply pick out the desk they like, point their phone toward the office, and immediately know whether it works.
While they're there, they might try out some other models since they have easy access.
Or check out some virtual chairs to match.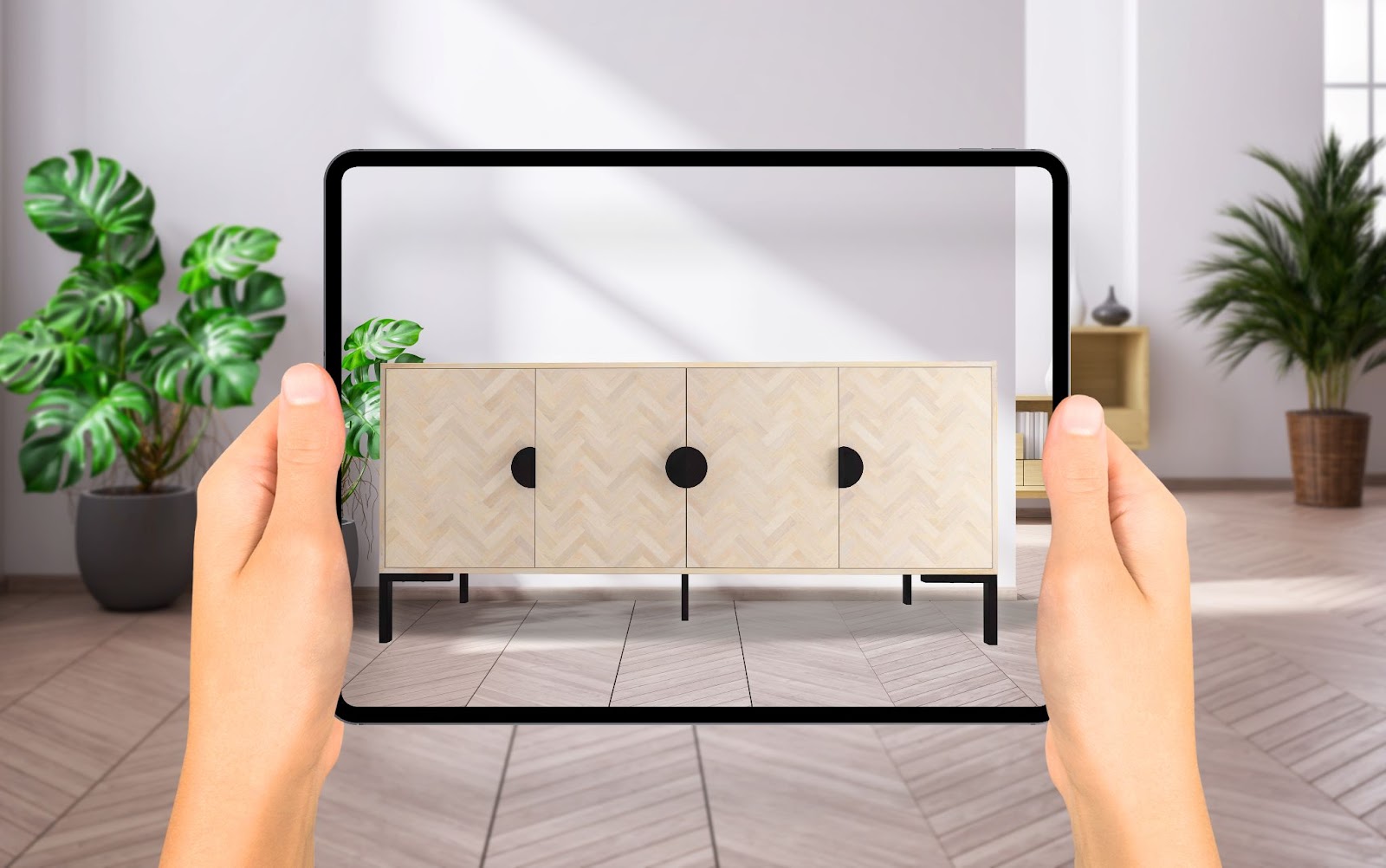 The results?
200% more engaging than regular, 2D content
90% Increase in conversions
50% reduction in returns
61% of shoppers prefer to shop from brands that offer augmented reality
We can agree that offering some form of AR is suited for eCommerce. It's fun, memorable, and super-useful to your customers.
Let's explore some AR concepts.
Examples of AR Concepts
Okay. We've established that AR is the bomb. But it's still kind of a blanket term for a couple of tactics instead of a singular AR concept people imagine when they first hear the word.
So now we can start breaking it down, starting with two very different real-life examples for context.
L'Oréal Colorista (retail, eCommerce)
Have you ever made the decision to dye your hair a certain colour, and then immediately regretted it as soon as you saw the results? Fear of this happening is especially common for people who want a bold colour change—like dark brown to platinum blonde.
But what if you could see the results before you dyed your hair? To help indecisive customers and to promote their Colorista Permanent hair colour, L'Oréal launched an AR campaign via a TikTok effect that allows users to change their hair colour to bold rose gold. Users could then share the video with their friends. It was a fun campaign that raised awareness for the product, but that's not where it stopped.
The #GoBoldColorista campaign garnered billions of interactions, so it's no surprise that when you visit L'Oréal's website and search for their Colorista products, you can virtually "try before you dye" to see how the product looks on your hair.
Zombies from Hell (retail, FMCG)
Zombies from Hell is a game you get to play when you order pizza from Hell.
It's an AR concept where you point your device to the pizza box and start fighting zombies as if eating pizza wasn't fun enough.
Brilliant idea, if we may say so ourselves.
Joking aside, Hell's Pizza worked with Plattar, and here are the results they got with AR:
Approx. $2,000,000 pizzas sold
40,000+ downloads
429,618 people reached on social media
50% of game session time 1-30min
8th most downloaded app in NZ beating Facebook
Featured on 50+ websites
Those are just a few examples of companies increasing engagement with augmented reality.
But let's zoom in on eCommerce and how your business can wield AR concepts to get results like these.
Top Four powerful AR concepts for eCommerce
1. Virtual Try-Ons
40% of customers are willing to pay more for a product if they can test it through AR, and 77% would use it to see product colours, sizes, styles, and other differences.
How does this work? Exactly like it sounds. Users can use an app to see how makeup, accessories, or pieces of clothing would look like on them.
Browse the fits, try on different colours… It's a quick, fun, and accessible shopping experience.
Here's a great example: Bailey Nelson.
As consumers gravitated even more towards online shopping, Bailey Nelson's team were tasked with implementing solutions that would recover lost revenue and differentiate the brand in a crowded eCommerce space.
At the heart of the challenge: Create an online frame discovery experience similar to the one customers received in stores. It was crucial for the team to ensure that what customers try on online matched what would then arrive in the mail.
Since launching the integrated Plattar solution across the full product range, Bailey Nelson has seen online sales conversion increase by 400-600% in different countries
2. Preview placement
Along similar lines to product try-on, preview placement includes a 3D viewer and configuration to let you see the item you're buying in a 360-degree view.
In English, that means picking a couch and putting it in your actual living room to see how it looks from all angles, in real size.
That's a crucial step in the buyers' journey, especially when it comes to large and robust products that can't be easily tried out and returned.
Thanks to this AR concept, users can make a good decision much faster and be more confident about each purchase.
3. Exclusive experiences
Augmented reality increases user engagement by 66%. Why? Because it's fun. It feels personal.
It's like a game and oftentimes it actually is a game. (Remember Zombies from Hell?)
Another great AR game example is Lego.
Lego offers a ghost-hunting augmented reality experience where you explore the various "Hidden Sides" of your sets. It's a great way to get users more connected to the toys.
Of course, not all exclusive experiences have to be games.
Whatever you can think of that uses real-world scenery and transforms it into an immersive user experience can set your brand apart from the competition.
Just put yourself in your customers' shoes:
Would you rather buy from and talk about a brand that does the bare minimum or the one that's breaking the internet with their creativity and innovation?
Like the one that lets you hunt ghosts, or kill Zombies while eating pizza?
4. Interactive user manuals
Interactive manuals are valuable when your product has a learning curve and takes a set of steps to set up properly.
This isn't necessary for things like shirts or perfumes. But if you're buying an espresso machine, the process gets more complicated than placing it at the right counter.
You need to know which buttons to press and in which order, how to clean it before first use, and how to make that fluffy froth for your perfect cappuccino—It can be overwhelming.
That's where an interactive manual comes in.
By visually showcasing where certain buttons and features are, users can more easily navigate and learn about their devices so that they can use them to their fullest capabilities.
Written instructions can help, but this augmented reality concept goes a step further to help guide you along the way, step-by-step, and make sure you don't make mistakes.
Key considerations when implementing AR concepts
We've established you have freedom when choosing your favourite AR concept.
But how do you ensure to successfully adopt AR for your business?
Let these questions guide you.
What do your customers need?
Always start with your customers.
What do they need that you can provide using AR? The answer might be a fully fleshed-out virtual store, or maybe just a fun one-time AR experience.
And if your first thought at the question was "I don't know"
…it's time you asked for some feedback.
By that, we mean asking your customers, and simply observing them:
What do they say about you online?
Can you do a survey or poll to get some feedback?
Why do they leave your website? (you can check metrics like exit pages to track what turns them away)
What are your competitors offering to them that you aren't?
You may notice you have trouble getting leads at all, or converting them to paying customers.
Whatever it turns out to be, these insights can tell you how you should approach the solution.
What could you realistically sustain long-term?
Your AR solution needs to be future-proof.
Something you'll be sure you can easily maintain and scale instead of worrying about what to do when all those eCommerce hopes and dreams become reality.
Your best bet is picking a reliable partner who will be able to support you, pre and post-launch
A company that has the experience, time, and know-how to handle your augmented reality product and let you focus on selling.
What would cover most of your needs?
These are the basics you won't change no matter what:
Business objectives
Current systems
In-house expertise
Then you can think about these important AR points and how you can work them into your business:
Types of AR services (full, or specialised, or maybe just some specifics?)
Security measures
Long-term maintenance and support
All of this requires due diligence and some homework from you.
Trust us, it's worth it.
Ultimately, the time you take on these considerations will prevent you from losing much more time and money on an unsustainable deal you could have walked right into otherwise.
Any questions?
AR concept FAQ
What are the biggest AR challenges?
That's a good question. Here's why most brands fail:
Their timing with AR is off
Their AR concept is gimmicky and not focused on the user
They managed to build it on their own but couldn't sustain or scale it
Apart from that, building from scratch is a very labour-intensive task. It requires serious skill to build a relevant, easy to use, robust AR experience.
So what do you do?
We always recommend you start by consulting AR experts. So…
How to choose an AR expert?
Here's your checklist of some important considerations:
| | |
| --- | --- |
| Consideration | What/Why |
| 1. The type of service they offer | Full, specialised, or industry-specific are some examples |
| 2. Portfolio and social proof | If others love them, chances are they did a good job or two in the pastThe more specific their use cases/samples, the more you can see if they align with your vision |
| 3. Customer support | Don't forget this essential factor. You need your provider to be there at times when you're overwhelmed and need a hand |
If a company has a proven track record, has eCommerce experience, and shows they can be flexible to meet their clients' needs, those are all indicators of a potential fit.
But if you're new to AR concepts, no need to get ahead of yourself.
Learn more about the subject, and then you can move on to reading some company reviews on sites like Capterra or g2 when you're ready.
Make your AR concept a reality
You know exactly how you like your steak, or how you drink your coffee in the morning.
Your company's AR concept needs to feel as obviously fitting as those choices you make for yourself. By now, you have a solid idea of what you can offer your customers.
It's time to set it in motion.
If you're ready to get your complete 3D AR solution, we suggest you take a look at Plattar. Get in touch today to book a demo.
We like to take care of the complicated stuff so you can relax and enjoy your AR experience.