So you've heard about augmented reality apps—a whole new universe of opportunities has opened up with all the AR tools at your disposal.
But are these tools worth the hype? The benefits everyone's raving about, are they real? And how do you go about taking advantage of them?
Without an understanding of key AR concepts and best practices, you may risk an expensive venture with benefits few and far between.
We're here to ensure you're prepared for the journey ahead and reap the benefits of your efforts.
In this article, you'll learn:
What AR apps are
The difference between App-based AR & Web-based AR
Which industries should consider using AR apps
The key benefits of AR apps in eCommerce
The three best practices when implementing AR apps
The four best AR apps
Four AR application success stories
Ready to tackle this one? Then let's get started.
What are AR apps?
Let's begin with the basics.
AR apps are software applications that integrate digital visual content into the user's environment. An explanation often used is that they are like filters: you take your living room, you point your phone's camera at it, and it adds that new couch you've wanted.
That's what AR apps do. They show you what your world could look like.
When the pandemic hit in 2020, retail stores suddenly needed to shutter, and eCommerce businesses took up the helm. Delivery data from Australia Post indicated that eCommerce purchases grew 39% year-on-year in March 2020, and further increased in April as well. With more people turning to online purchases, it was clear that eCommerce businesses would need to offer an optimal experience from purchase to delivery to stand out.
Prior to the pandemic, technological advancements in AR were already becoming more attractive to eCommerce and omni-channel retailers:
Developments in web-based AR (WebAR) meant that users no longer needed to download a separate app to access an AR experience, they could simply touch a button on a website or scan a QR code (we'll explore this in the next section).
Marker-less AR emerged to replace marker-based AR. With marker-based AR, the user would need a flat service for the camera to track to place AR content on top of, like a cleared table. Marker-less AR allows the camera to scan the user's environment in real-time, looking for a suitable object in which to anchor the AR experience.
With these factors combined and the pandemic perhaps acting as a catalyst, AR was poised to take off. A survey of eCommerce marketers by McKinsey&Company indicated that 48% of respondents were interested in "metaverse" technology (AR and VR), and that 38% were already using AR in 2022.
In addition to that, the global AR in retail market size is projected to grow to 61.3 billion USD by 2031.
Remember that couch example? Being able to go online and see how a couch would look in your room is one thing, but imagine seeing a hair colour you like on the shelf at a pharmacy, and within seconds seeing how it would look on your hair.
Really, the possibilities are endless for these two industries. But before we get into the benefits of AR, let's explore more about the technology behind it.
What is the difference between app-based AR and web-based AR?
The difference is simple: app-based AR is accessed through downloadable applications whereas web-based AR is accessed through an internet browser.
App-based AR allows for a wider range of features as it is designed to take advantage of your device's hardware and software. This allows developers to create a wider range of experiences including multiplayer gaming and indoor way-finding.
Working with Google's ARCORE for Android or Apple's ARKIT for iOS, developers can adjust the app to your device's specific operating system, ensuring it takes full advantage of the device's potential. Pokemon GO is a good example of app-based AR.
The problem is, however, how do you get users to download the app?
Pokemon GO succeeded, but other companies have had a lot of trouble with the challenge which is why research finds that web-based AR reaches twice as many devices.
It's so easy to use that people find it impossible to resist. It requires nothing more than scanning a QR code and accessing the website and suddenly, you're in the middle of your first AR experience.
So if you're deciding on a software provider for your company's AR, make sure to ask whether they develop app-based AR or web-based AR. Then again, you might get lucky and find a company that provides both.
Which industries should consider using AR apps?
The honest answer? All of them!
That may be an exaggeration, so let's break it down to the top five industries:
eCommerce
Retail
Marketing
Fashion
Real-estate
Why these five? Because for them, it's not really a choice. They have to begin using AR apps. If they don't, their competitors will.
The tools are too numerous to ignore and their potential returns on investment make them an easy proposition.
| | |
| --- | --- |
| eCommerce | By offering 3D product visualisation and configuration, and combining them with preview placement, companies are providing their customers with an understanding of the product no brick-and-mortar store can compete with. |
| Retail | AR technology allows customers to walk through virtual stores before visiting the actual location. By use of virtual mirrors, customers don't even have to try on clothes to see how they will look. |
| Marketing | By using AR apps, marketing companies receive an array of tools that can help them grab the customer's attention and differentiate their clients from the competition. |
| Fashion | The development of virtual try-on makes shopping online far easier. By allowing customers to examine how clothes would look on them without having to leave their homes, fashion brands raise their conversion rates and, even more importantly, lower their return rates. |
| Real estate | AR apps use advanced technology to present how that house you're trying to sell will look once it is finished. They even offer walk-throughs to examine the interior design. |
AR apps for eCommerce: key benefits
The benefits that AR can provide for eCommerce are limited only to the organisation's creative ability. But in general, we can highlight a few important ones:
1. Increases user engagement
AR applications can transform your website. Before, it was a museum. Users would scroll up and down your pages, examining 2D pictures, reading product descriptions, and squinting into the darkness, trying to imagine how the product would look in their hands.
But AR turns that museum into a playground and studies have shown that AR delivers almost double the levels of visual attention compared to non-AR methods.
Users can play around with 3D product visualisation and examine the product from every angle. They can use a 3D product configurator and customise their purchase to their exact needs and desires. Then they can take that unique product and place it in their physical environment to examine how that couch will look in the living room, or how that appliance will look in the kitchen.
Compared to benefits like that, who would ever visit a brick-and-mortar store again?
This is why 34% of all users interact with a 3D viewer for more than 30 seconds.
And there's more:
95% of customers prefer interactive 3D view to video playback.
82% activate 3D product configurators when visiting a page.
2. AR is cheap compared to other media
This one can be quite surprising.
People expect revolutionary technology to come with a price tag to match.
With rising demands and expectations from customers, companies have been forced to take things further in terms of investment into product photography.
As we've discovered, AR is a far more potent tool when it comes to converting people into customers.
But how does it match in terms of investments?
| | | |
| --- | --- | --- |
| | Augmented Reality | Product Photography |
| Average cost for five pieces of furniture: | $2,000 | $11,067 |
| Ability to modify existing products: | Yes | No |
| 3D viewing: | Yes | No |
| Option of 3D customisation: | Yes | No |
3. Improved conversion rates
With the increased user engagement mentioned above, users become more interested in the product. By utilising AR, users gain a better understanding and with it greater confidence to complete the purchase.
They might like the way a piece of furniture looks in the 2D picture. But when companies provide the option to examine a 3D version of the product and then place it in their living room, to see if it fits in the space and works well with the rest of their design?
Conversion rates increase.
Shopify's research shows that conversion rates go up by 250% when AR & 3D is offered on the product page.
It goes beyond that. 71% of consumers say they would shop more often with AR because customers are beginning to understand how much better their shopping experience can be when they are using AR.
4. Unique customer experiences
Our customer experiences have become predictable and even if a company should offer an unexpected twist, there are often reservations as users perceive the event as a marketing stunt.
AR can shake up those expectations and capture customer attention by offering experiences they haven't encountered before.
Take Hell Pizza: Zombies from Hell. By downloading the company's app (powered by Plattar) and pointing it at the box, their customers got to shoot zombies while they were eating pizza. And the customers responded with overwhelming enthusiasm.
And what did it lead to?
8th most downloaded app in NZ
Estimated $2 million worth of pizza sold
Over 400,000 people were reached through social media
How's that for uniqueness?
Three best practices when implementing AR apps
UI perspective
When it comes to the user interface, it is important to keep the on-screen elements of UI simple and visual, with limited word usage.
Only the most important information should be presented so the user stays focused on the real world and isn't distracted by the digital projection.
Another thing to keep in mind is the mobility of the device. A good example is the AR feature of Google Translate.
In this case, it is not the user's interaction with the screen but the movement of the camera that helps control the app.
UX perspective
When it comes to the user experience, here are some factors to consider:
The first is the environment. An app that focuses on construction will be different from an app that places furniture pieces in the user's living room. Understanding where and how the app will be used is the bedrock of app design.
You must decide how the user will interact with the content – are they able to zoom in or out? Will they have the option to add 3D models or videos to their environment? Interaction should also take into account if the user will hold the device upright or vertically.
Adding useful cues will also help. It is potentially overwhelming to have all the options on the screen at once, the app can reveal cues based on the stage of the user journey the customer is on. Cues can hide or reveal certain features, ensuring only the most vital information is presented on the screen.
Functionality perspective
When it comes to functionality, the discussion revolves around three categories:
Marker-less AR
Marker-based AR
Location-based AR
And what would these things be? Well, they are different triggers that start the AR experience and their usage is based on what you need them for.
Marker-based AR uses a designated trigger to begin the experience. These triggers take the form of QR codes, logos, or product packaging. The AR experience is tied to the marker, which is why it most often plays out above it. The user points their camera at the marker, and the show behind.
As you can imagine, markerless AR is the opposite. Instead of a trigger, you begin the AR experience by opening the app, clicking the link, or visiting a website.
Markerless AR scans the environment and places digital elements on a recognisable feature, such as a flat surface or wall. Instead of being based on a marker, it's based on geometry. It is popular among companies looking to use AR for product visualisations within home environments -the user points their camera toward the surface where they want the digital product displayed, and voila!
Source
And finally, we have location-based AR. It isn't as common as the first two, but popular in the tourism industry. It is also known as GPS-based AR and it is most often used for directional guidance with the help of Google Maps. Users scan their environment with their cameras to receive directions.
Four best AR apps

To kickstart your journey, we present the best – in our expert opinion – AR apps.
1. Plattar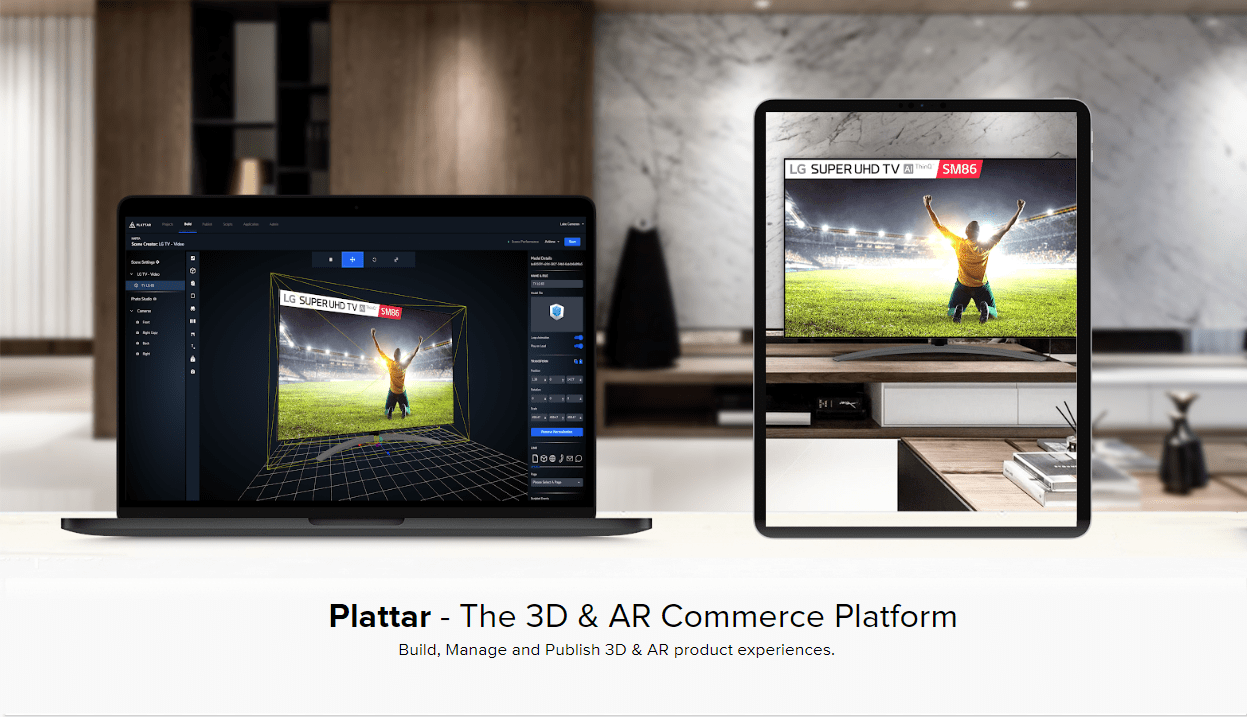 Plattar is a 3D and AR product platform that requires no coding. Plattar's mission is to help companies create immersive customer experiences and present their products in a new light.
To that end, Plattar provides end-to-end services by building, managing, and publishing AR and 3D experiences.
Plattar is the answer for companies looking for:
App-based or web-based AR experiences
Virtual 'try-on' experiences
Virtual showrooms
Product placement
3D viewer and configurator
Improved SEO
By being an end-to-end platform, Plattar ensures that a company's AR process can be scaled by providing the option to manage their entire content across multiple touchpoints, from a single platform.
2. Poplar
Poplar is an end-to-end 3D and AR product platform that focuses on gamified AR experiences and FMCG experiences. The company's mission is to provide its customers with an easy-to-use platform that can ease the transition into the world of 3D and AR.
With Poplar, brands can use:
Virtual 'try-on' experiences
Product visualisation
3D display ads
3D modelling
3. Zappar
Zappar is a 3D and AR product platform. They provide their service to a number of industries including education and tourism by incorporating AR into learning programs and providing location-based AR for guided tours.
Zappar can offer:
App-based Ar & web-based AR
Training and workshops
AR marketing campaigns
AR games
4. Augment
Augment is a platform for 3D and AR product visualisation. They specialise in mobile AR solutions aimed at eCommerce, field sales, education, and architecture.
Augment offers:
3D viewers
AR viewers
3D vault, and
3D model management
AR applications success stories in retail and eCommerce
There has been a wide range of companies that have seen success by using AR in their stores and on their websites. Here are a few of them:
1. Wanna Kicks
Wanna Kicks is an iOS AR app that lets its customers virtually try on their shoes.
It comes from Wannaby, a Belarus-based company that is building AR commerce experiences.
The user simply has to choose a pair of shoes and point the camera at their feet. The app then tracks your feet as you change the camera angle. You can even go for a walk and the app will follow your footsteps.
By providing such a comprehensive user experience, the company seeks to raise consumer confidence, increase conversion rates, and revolutionise the online shoe-shopping experience.
2. IKEA Place
Launched in 2017, IKEA Place is an app-based AR application that allows users to browse IKEA's products and place them within their chosen environment. The AR provides true-to-scale 3D models that allow customers to see if the furniture will fit.
Being one of the first furniture companies to adopt AR, IKEA Place became the second most downloaded app on the App Store with 13 million downloads in the first six months.
And beyond the practical functionality of the app and its success, IKEA enjoyed an enormous amount of attention from users and the press alike for their innovation.
3. YouCam Makeup
YouCam Makeup is an AR app (both for Android and iOS). The developers of the app recognised that buying makeup online can be a bit of a gamble. By giving their users the chance to try out their makeup before buying it, the app struck gold.
Launched in 2014, the app quickly spread due to positive responses from its users and the social aspect of the app that allows users to communicate with one another.
It's been a hit. Many users abandon an app after one use. With the YouCam Makeup app, the typical user returns every two days!
Get started using AR apps
The benefits of AR apps are undeniable.
In the future, we can expect to see AR quickly go from a novelty, met with no small degree of doubt to a must-have asset no company will be able to ignore.
The increased user engagement and the skyrocketing conversion rates. The cutting down on return rates and the elevation of brand loyalty. These are priceless factors that have the power to help companies take the next step in their growth.
The implementation of AR is growing easier by the day and the technology will only get better with time. Those who will begin preparing the foundation will be ready for the day when AR apps become an indispensable part of every sales process.
Contact Plattar today and find out which AR apps are the best fit for your business.