A comparative guide to AR systems
The journey from seed to fruit isn't that simple. You must consider where you are now, what you need to do to get where you want to be, and how your path will shape your result.
What seeds do you already have to start with? If you don't have any seeds, where do you get them? And how much are seeds anyway?
Because when it comes to AR, the question you really need to be asking is:
How much does AR cost? Is it really worth the investment?
For those of you who want the short answer, AR implementation can cost anywhere from $3000 to $500,000.
If done right, it pays off.
If a short answer isn't good enough, stick around because we'll cover everything that factors into the cost of AR so you can make an informed decision.
We're talking:
What are the absolute AR essentials you need
Which options are affordable for your needs
And what's a realistic ROI you can expect
And, of course, we'll actually answer the question: How much does AR cost?
Let's do some math.
How much does AR cost?
If this question had a short answer, we would have already given it to you.
The (augmented) reality is a bit more complex.
In essence, these are the basic elements that comprise the total cost of your AR ownership:
App type (maker-based, location-based, or virtual odometry)
AR content creation
App complexity
Software licenses/SDK
Discovery and development services
Maintenance
That's right, these are basic elements.
For example – in the development or discovery stage, you will need to:
Delegate responsibilities to a trusted tech team or outsource to qualified AR experts
Educate team members about the project details
Check the progress of the project for quality assurance and testing
Find a project manager to oversee the process
Conduct team reviews…
It's hard to pinpoint exactly how much all the time and labour will cost.
Should you be measuring it by hourly rates? Scope of work? Type of solution?
For a complete overview, we'll run through some specifics individually to give you a ballpark to play with before we get to a complete breakdown of the costs of augmented reality.
AR costs to consider
These are the main components that determine your AR cost:
AR app development cost
Project scope
Team skillset
MVP release vs full release
Development
Regarding development, you have to think about a lot more than finding freelancers to write some lines of code.
Building a custom AR app is a long and expensive process.
The hourly rate for developers can go from $40-150 depending on location and project type. Let's take the average of $51.21/hour.
Business analysis can last up to 80 hours. Software architecture planning can easily take 25 to 40 hours. Early planning takes one to two weeks. And only once all that's done can you start actually developing:
Basic app features like rotation, moving, etc.
World recognition
A basic admin panel
Back-end
Log-in features (email verification, password restoration, etc.)
User profiles
User engagement features (such as social sharing, reviews, and comments)
Push notifications for updates, deals, discounts, etc.
This stage could take anywhere between 1200-1500 hours.
On the lower end, development could cost you around $70,000 for the first basic version of your app. For the full, complex version with all the advanced features you need, you could be looking at $300,000+.
But what if you could skip this part?
With a SaaS service such as Plattar, AR app development cost isn't something you need to panic about. This comes with the deal.
There is no coding, no AR developers, and no added expenses for each feature your AR needs. This benefit is cumulative—and the efficiencies here are clear.
Instead of spending hundreds of thousands of dollars just to create your app and wait on the returns, you could subscribe to a service that develops it for a fraction of the cost.
Project scope
Scope determines what your app requires. It dictates which components the project will include, ensuring the end product provides a complete AR experience.
For example, some apps have limited functionality that serves just one particular purpose, like an on-site game. This could cost a couple of thousand dollars.
On the other hand, a sophisticated eCommerce app needs to be a lot more complex with advanced features for a seamless user experience. You need more models, colours, sharing options, a website interface, etc.
These items can be labour-intensive to develop.
Constructing a team:
Who is building your app? Do you have:
1) an in-house team
2) are you outsourcing, or
3) subscribing to a SaaS app?
Option #3 means you don't have to worry about hiring the right person for the job. A full-service AR company comes with the expertise to help you create anything you need without requiring technical know-how on your end.
You don't even have to see a line of code.
On the other hand, Options #1 and #2 above aren't nearly as simple. You need to have a project team that can cover every aspect of the project along the way, which requires experience in a number of crucial areas, such as:
UX and UI
AR technology
Project management
You may have to invest in training or hiring and cover everyone's hourly rates for the duration of the project.
Minimum Viable Product Release vs Full Release
Minimum Viable Product (MVP) refers to the first functional version of your AR experience.
MVP has limited functionality, but it's enough to demonstrate your final vision and give your customers a taste of the product.
MVP is cheaper to create, allowing your business to adapt to its use and customers to benefit from its release, especially if you know full deployment might take a while.
This isn't a big or separate concern with SaaS AR since deployment is already pretty fast.
And that's that for individual components, which all together stack up to… how much?
AR Cost Breakdown: Total Cost of Ownership (TCO)
So you've seen some elements of it, but your total augmented reality cost will vary a lot depending on whether you're building from the ground up or buying a SaaS solution.
So let's stack them up against one another and see how they compare:
| | | |
| --- | --- | --- |
| | Build | Buy |
| 1. Build/development | Scope and planningResourcingExpertiseDesignDevelopmentDeployment | Build taken care ofContinuously added features/functionalityMonthly subscriptionEasy to deploySupported go-live |
| 2. Maintenance | Bugs and fixesUpdates/upgradesSecurityInfrastructure/serversFTE/resourcing3D content production | Easy maintenance due to platform solution with simple UIThe platform is managed by the providerClient implementation can be managed by the provider |
| 3. Decommission | ComplianceData storage | Non-issue, continuity of services |
A SaaS platform gives your budget certainty and slashes your expenses.
Add to that the fact that you'll be achieving value much faster (deployment within days, anyone?), and with the platform investing in the development of best practices, you can be assured of the continued success of your 3D & AR ventures.
SaaS providers take care of the heavy tech in the back end so you and your customers can enjoy uninterrupted services.
How much will a subscription to a 3D/AR platform cost you? Here's the tiered cost at Plattar: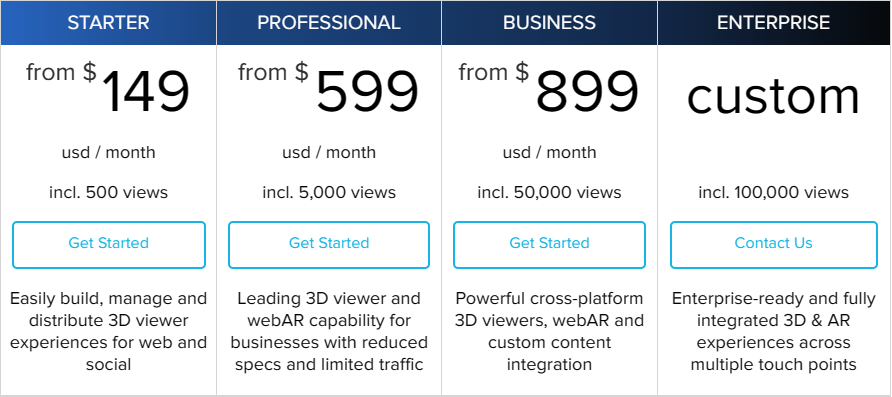 And that's for an ongoing service that includes storage, maintenance, and everything else you will need post-deployment.
TCO Summary
Using AR has the potential to pay back your investment a thousand times over, but perhaps you're at a crossroads between two approaches that could affect the total AR cost and the results.
Here are the pros and cons:
| | | |
| --- | --- | --- |
| | Pros | Cons |
| Building | You're in full control of the projectRetain ownership of the final productDon't depend on a provider (less risk)Your AR can be fully customised to your needsTricky to scale | Far more expensive to get startedAR app development cost alone can be in the hundreds of thousandsTakes longer to deployRequires more planning, expertise, and work on your partMaintenance is on you |
| Buying | More affordable to get startedPredictable expensesMuch quicker deploymentReturns come soonerDoesn't require in-house tech expertise or specialisationUpdates and maintenance are taken care of by the providerEasily-scalableReadily-available support | Fewer options for advanced customisationLong contracts, reliant on provider stability. No proprietary ownership |
Generally, buying a subscription is usually the more convenient option than building because of its fast deployment and scalability.
And if you're thinking you'll save more later on by paying more in the beginning, you should consider the following:
Who will maintain your AR?
How will you keep it up as you scale and grow?
With a trusted provider, you start reaping results faster, AND you have all the handholding you need to scale quickly and seamlessly.
AR ROI: Is AR worth the investment?
Yes.
60% of shoppers between the ages of 16-34 have returned an item during the last year because the item was faulty or "not as described."
In other words, customers have high expectations for what they want but often don't have the information they need to make an informed decision before buying.
And that's not even mentioning the "buy five, keep one" mentality that's becoming more popular due to people not having an accessible way of trying items out pre-purchase.
The result?
Expensive returns. Abandoned shopping carts. Uncertain customers and money left on the table.
To say that AR closes that gap in eCommerce would be an understatement.
Advantages of AR in eCommerce
The customer conversion rate is 90% higher for companies that use AR vs those that don't.
Let that sink in for a second.
Here's a follow-up:
71% of users would shop more often if they could use AR,
61% prefer retailers that offer the option,
40% would pay more for products if they could first try them out in AR.
It's effective and in demand because it solves people's problems and makes their experience fun.
eCommerce companies can reap a slew of benefits from augmented reality including:
Lower return rates
Better UX and brand engagement
Less need for in-store space/storage
High customisation options
Ability to display all colours/options for products
Higher buyer confidence
Remote accessibility (safety and convenience)
Not bad, right? If you want to get more specific, here are the results of a project Plattar executed for a client, Snooze:
20% increase in users viewing a product detail page if the product has the 3D viewer
40% increase in add-to-cart if the product has a 3D viewer
30% increase in conversion to purchase if the product has 3D viewer
We know it sounds borderline fantastical. But let's take a look at the alternatives to AR and spot the gaps in the market.
Advantages of AR in retail
Many say that retail is dead, especially after the pandemic saw a record number of stores close for good around the world.
But as it turns out, retail stores that focus on providing a special and unique customer experience are celebrating wins, even while other stores are shuttering around them.
How does AR fit into this?
With AR, customers can quickly access product details, view the product in different colours (e.g., furniture), and even try on clothes and shoes without having to use a changeroom or sift through boxes on a shelf.
But it's really about providing that special and unique experience we were talking about.
In 2016, at the height of the Pokemon Go craze, one of the largest malls in the world, West Edmonton Mall in Canada, took advantage of the AR game to attract shoppers in an effort to drive revenue for the mall and its stores. They even created a virtual map that encouraged shoppers to explore the entire 5.3 million square foot space (almost 50,000 square metres) with more than 800 stores.
Retailers that also offer online shopping can ensure that their in-store experience translates online as well. One of Plattar's customers, Bailey Nelson, integrated personalised frame discovery online so users can choose and try-on frames in real-time using any device, mimicking the experience they would get in-store.
FAQ
Beyond asking simply, "How much does AR cost?", many eCommerce brands have a number of other financial questions about AR.
Let's explore.
Is AR more expensive than VR?
AR is cheaper than VR as it does not require an investment in hardware to access VR features. If you have tablets and/or phones, you're pretty much all set after AR training.
But, again, it's not just about the initial AR development cost.
AR is also more accessible to users compared to virtual reality. You don't want to swap your static images for cutting-edge technology that nobody can use and end up decreasing your customer base.
With AR, that's not an issue.
It lives in the perfect intersection between ease of use and improved user experience, making it cheaper and faster to deploy and more lucrative long term.
What are the disadvantages of AR?
It can be expensive and awkward to handle if you don't have expert help and guidance from the beginning.
It proves to be most expensive when it's unsustainable—unable to be maintained post-launch.
Building AR yourself from scratch not only takes longer to deploy, it:
Requires serious tech skills
Comes with a huge scope of work
Is a complex process and requires significant investment to get right
Requires consistent maintenance
Limits you in terms of support later on
A polished product that's easy to configure and comes with the requisite support for maintenance? That should be your priority.
What are examples of good eCommerce AR?
Out in the wild, you've probably encountered AR before you understood it was AR—such as the Pokemon Go explosion a few years back.
But AR is also commonly used in eCommerce.
A popular success story is Ikea. It uses AR to:
Display furniture models, colours, and sizes without taking up physical storage space
Show how each piece fits inside a customer's room, removing the fear of getting stuck with a giant sofa that, as it turns out, dominates the entire living room
Let customers test options and shop from the convenience of their homes without sacrificing buyer confidence
Personalise inspiration for interior design and decoration, etc.
Other successful examples you can check out include:
Or take a look at Plattar's customer websites for additional inspiration and a glance at what SaaS AR can do for your company.
All things considered, investing in AR is worth every penny
To start your AR journey, you should book a demo with Plattar. There's no better way to picture the results of AR for your company than to see a preview of how it all comes together.
After all, that's what AR is all about.
But if you'd like to learn more about it first, feel free to read additional content from Plattar's blog.