11 Benefits of Using an AR Builder Online to Sell Your Products
As online commerce experiences massive growth—as high as 27% a year and sales expected to reach $8.1 trillion in 2026—retailers are fighting to get a piece of that pie.
One aspect of marketing and sales is quickly becoming a focus point:
Differentiation.
Retailers have to go the extra mile to attract consumers and make sales. To differentiate themselves, they need to pay attention to:
Product photos—items with high-quality images have higher conversions
Product description—detailed descriptions highlighting specs and functionality
Price—buyers look for the best price and want price comparison tools
Shipping options—customers are willing to pay a bit more for free shipping
Payment options—PayPal, Square, or Apple Pay on top of credit cards
Reviews—reviews highlight product quality and functionality and with 93% of consumers saying that online reviews influence their decision, this aspect cannot be ignored
Customer service—availability of live chat in addition to phone and email support
These may be the most obvious elements that can differentiate a retailer from others, but
there is another equally compelling form of differentiation:
Differentiation of experience.
Building online AR versions of your products presents a huge opportunity as only 1% of the market currently capitalise on augmented reality experiences.
In this article, we'll discuss the benefits of using a drag-and-drop style AR experience platform – also called an online AR builder—and show how you can get ahead of the competition by crafting impressively differentiated product experiences.
What is an Online AR Builder?
Before diving into the benefits of using an AR builder online, let's first define these tools.
There are essentially two kinds of tools for creating augmented reality:
Software development kit (SDK)
AR builder online
An AR SDK (like Google's ARCore and Apple's ARKit) is essentially a toolkit that allows developers (typically those with coding experience) to build augmented reality experiences.
An AR SDK is the foundational set of development tools used to create AR applications. The AR framework is a platform that allows AR software applications to be developed. In other words, the SDK is like the foundation of a building, and the AR framework is the structure that allows the different components to be held together so that AR applications can be developed.
With an AR SDK, you get all the tools you need, but you're very much building from the ground up.
However, an online AR builder allows you to produce very similar results, but in a no-code, drag-and-drop style environment.
All of the technical stuff goes on behind the scenes, and you can typically start with templates or building blocks to get your AR experience off the ground more quickly.
You can think of an online AR builder as closer to a "paint by numbers" set (though a fair bit more sophisticated).
Rather than getting a full palette of paints to mix and a blank canvas, you get the exact hues you'll need (no mixing required), and a canvas with a templated image ready to go. The platform provides you with all the tools to build complex, highly engaging, and interactive 3D and AR product experiences in a user-friendly editor without needing technical skills.
As a result, online AR builders are more popular with eCommerce and retail marketing teams, who need a simple yet scalable way to create immersive product experiences online.
It's more than just ease of use that makes online AR builders so popular. Let's dive deeper and explore a list of the key benefits of using AR builders.
11 Benefits of Using an AR Builder Online to Sell Your Products
1. Easy, drag-and-drop building of AR experiences
The first and biggest benefit of using an AR builder online to sell your products is the ease of accessibility because you don't need to be an expert in coding to create 3D/AR scenes.
Where full-scale SDKs require experienced developers (usually with specific expertise using that specific SDK), drag-and-drop style AR builders typically require no use of code at all.
It's worth noting that some offer the ability to jump in and edit code if you wish, but this ability is typically not a prerequisite for using the platform.
To give you an idea of just how easy this is, take a look at the drag-and-drop AR editor from Plattar (that's us!)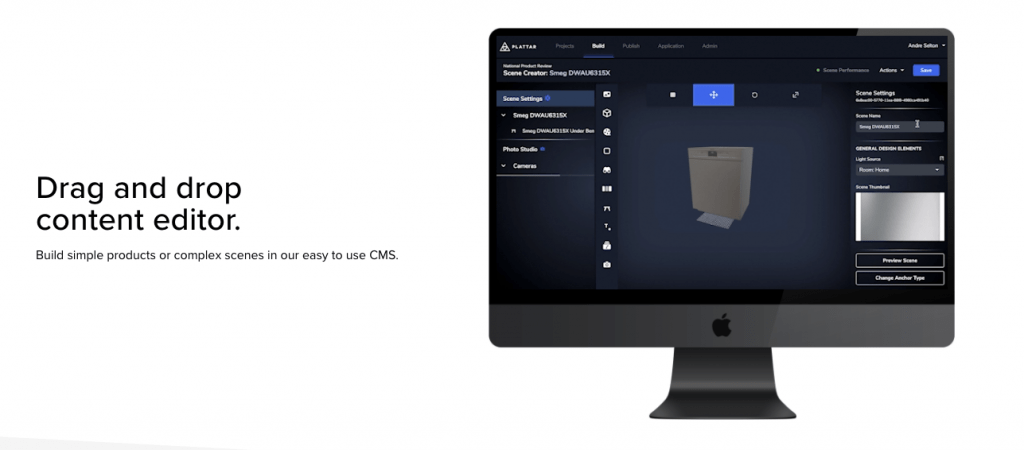 Note the simplicity of navigation on the interface, with no complex terminology or convoluted layouts.
Using the Scene Editor, you can import various file formats and media, pick your output, and create your own scene – with no coding required!
Plus, with their unified dashboard, you can manage all your 3D assets, media, and scenes in on place.
Most importantly, once your scenes are ready, you can publish 3D and AR to multiple touchpoints – with one click.
By implementing an online AR builder, you can move AR scene creation out of the IT world and into the product and marketing world.
2. Ability to Use Proven UI/UX Templates and Build on Top
Building AR products is not about keeping up with the Joneses, it's about improving user experience.
The tricky thing is that most UX-based undertakings require a lot of testing, trial and error, and measurements of your efforts.
For many, this makes creating AR product experiences time-consuming and costly when using traditional SDKs, especially when building custom solutions.
With an online AR builder, you can leapfrog a lot of this testing by using proven UI/UX templates as a starting point.
Here's a quick visual of how this works in Plattar.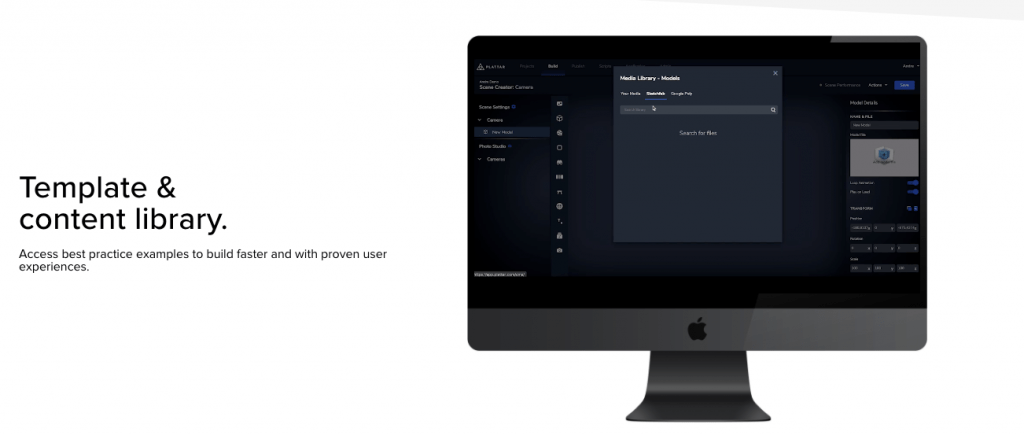 The key benefit here is the time and cost savings from minimising the UI and UX testing required.
Since you can create 3D scenes without any coding knowledge, you do not have to spend tonnes on developers. You also save on time by using the dashboard to manage all your assets – not to mention being able to deploy 3D and AR for all device types with a single click.
As a result, brands who use an AR builder online can scale their content production much more rapidly and see a higher return on investment.
3. High-Quality Product Rendering
This is a crucial factor, as augmented reality is still in its infancy regarding widespread use and image quality.
This depends largely on the specific AR builder you decide to use. Still, it's generally true across the board that for product-based uses, high-quality product rendering tools offer superior display quality.
As a result, there are tonnes of examples of bad AR experiences and that won't win favours with your customers!
Plattar's online AR builder offers leading display quality for AR out of the box.
For instance, Single Speed Cycles gives their customers a completely unrivalled and personalised online shopping experience to match the same experience they would enjoy in Single Speed Cycle's brick-and-mortar stores.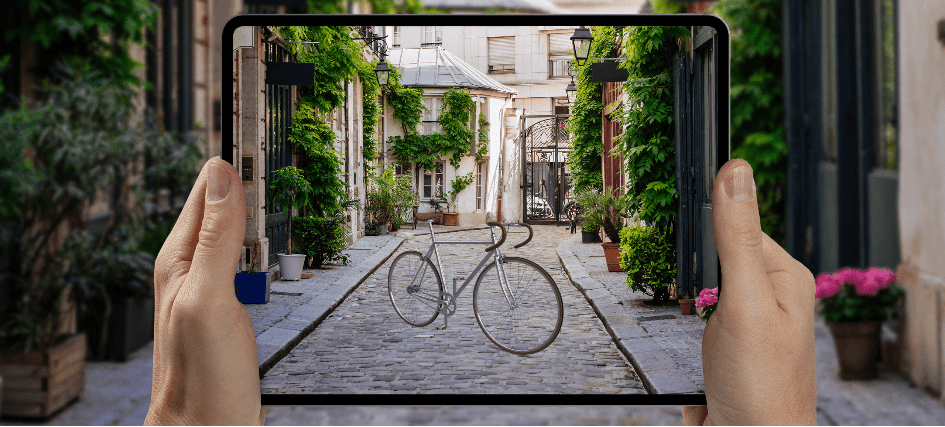 Using the 3D product visualisation tool, the customer can accomplish two things:
A complete view of their customised bicycle, from colour and finish to specific components
A full visual, to scale, of how their potential new bicycle will look in any space, such as their garage, apartment hallway, or living room
4. Inbuilt AR Content Management System
Building all of this high-quality AR content is one thing; storing and managing content is a completely different ask.
Regular storage solutions like Dropbox won't cut it either, as 3D content differs from normal .jpg or .png images and requires a purpose-built content management system.
This is another benefit online AR builders, like Plattar, offer over pure play SDKs, a purpose-built CMS for 3D and AR content that makes assets easily retrievable, accessible and maximises the value of your 3D content by making it available in experiences across a range of use cases at different touch points.
It's not just about storage, either.
The best online AR builders connect (under the hood) the creation and management aspects of AR experiences in the same interface, so you can easily access your 3D and AR content without leaving the platform.
To show you how this works, brands managing 3D and AR content in Plattar can easily browse their catalogue of 3D products and find what they need in list or grid mode or simply use the included search engine.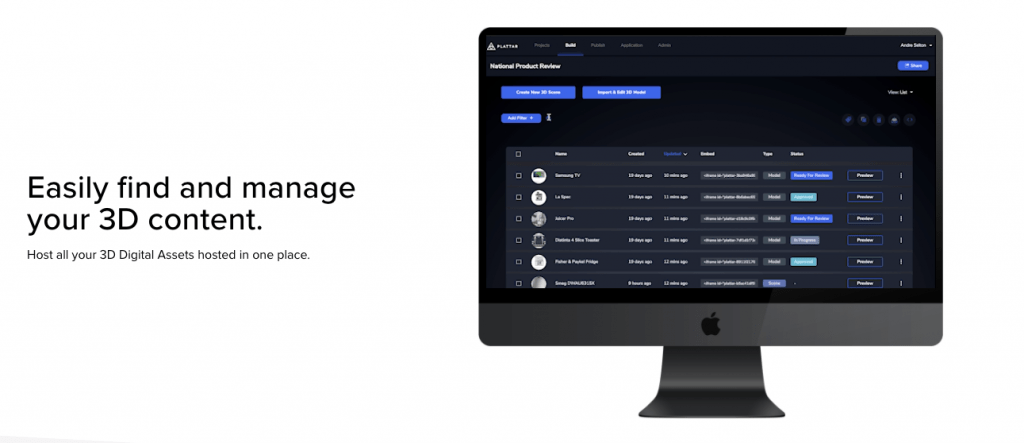 The Plattar platform is highly organised and built for purpose. That is, no matter how complex your product range may be, you can stay on top of your asset library. You also have access to usage and performance data analytics, which is valuable for streamlining your processes. If you have several projects on the table, you can easily manage different teams across these projects.
5. Easily Customisable to Your Specific Needs
A concern for many potential users of online AR builders is that they'll be limited in terms of scope.
While it's true that many AR builders are focused on a specific use case for AR (some are made for product visualisation, others for learning and education, and still others for remote support and engineering), the best platforms offer a fair degree of customisation.
Plattar's SDKs offer developers the ability to:
Customise the overall experience
Build additional functionality on top of our platform
Easily integrate 3D/AR experiences into their website or (more broadly) technology stack
Even within a single use case (let's say product visualisation), there is a lot of variation in requirement. So, retailers need a simple yet powerful (i.e., highly customisable) solution.
For example, one retailer might wish to create AR versions of their product so shoppers can visualise them in their own home environment.
This is a common approach of eCommerce homeware brands such as David Turbridge.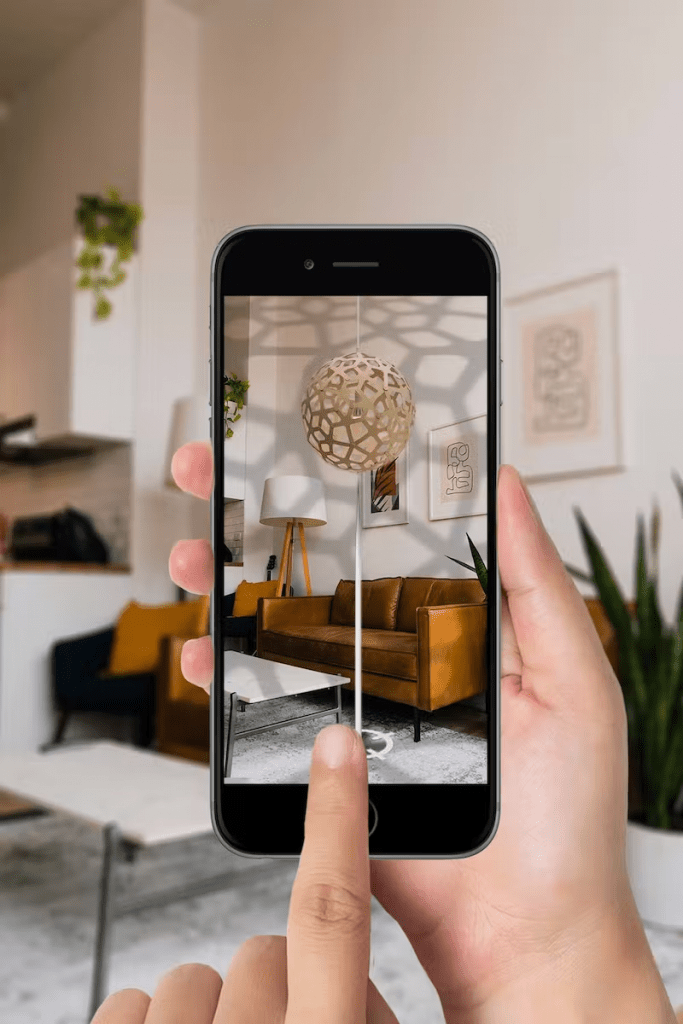 In this example, shoppers can see the light fixture's size, height, and styling before purchasing using their phone and an app powered by Plattar.
Others, such as Saab, use augmented reality builders in their product development and B2B sales processes.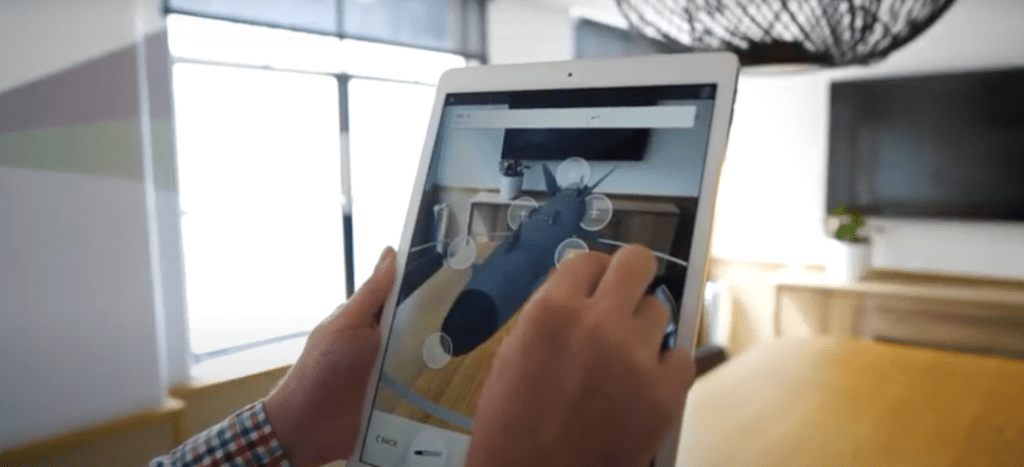 The most advanced online AR builder will allow customisation of your experience to suit various use cases.
6. Seamless Integration with eCommerce Platforms
The primary focus for online product retailers should be the integration of any software they use with their given eCommerce platform.
Though your mileage may vary depending on the online AR builder you choose to use, most integrate smoothly with major eCommerce platforms such as:
Shopify
BigCommerce
Woocommerce
By plugging directly into your eCommerce store, online AR builders such as Plattar allow you to publish 3D and AR content with ease, without having to wrangle various software together via tricky APIs.
Since Plattar's SDKs are open source, we can quickly add new features – in conjunction with our partners – based on your needs. If you need your own interface, you can easily take Plattar's code and add it on top.
More than just being an AR builder, Plattar is also an AR manager – that is, a CMS! After integration, you can change, add, and remove content without leaving the platform.
7. Improved Scalability
One of the major problems of using traditional software development kits is the required start-up costs.
SDKs themselves can be inexpensive (though not all are), and sometimes free, but where costs really rack up is in hiring developers.
Estimates for even the most basic AR apps come at around $50,000-$80,000, with more sophisticated examples costing hundreds of thousands of dollars.

Clearly, costs such as these may put AR out of reach for certain companies. But even those who can afford to put $50k into AR development face a problem:
It's not particularly scalable.
You can't start small, perform testing, and subsequently scale up.
That's where online AR builders shine. Using these tools, the portfolio size that needs to be turned into 3D/AR does not matter. AR builders allow you to implement AR experiences without knowing the technical stuff—all scaling, performance, and device compatibility challenges are taken care of by the platform.
Additionally, AR builders feature progressive or phased rollouts across more or all parts of your portfolio. From there, you can perform A/B tests, validate assumptions regarding content consumption, interaction, and return on investment, and then choose to invest further.
8. OS-Agnostic
The beauty of online AR builders is that they are OS-agnostic.

This is because they allow you to build experiences that run on a web browser (often referred to as webAR). Therefore it doesn't matter whether your customer is using an Android, iOS, or another device.
Compare that with SDKs, which are often specific to a single OS (Apple's ARKit only works with iOS, for example), and you can see a major benefit:
Online AR builders have already solved the complexity of serving the right experience on the right device, every time.
9. Provides Various Solutions in One Platform
These platforms are not limited to single product visualisation, despite this being their most common use.
Many AR builders, like Plattar, offer various solutions such as 3D viewer, 3D configurator, face-tracking solutions/face try-on, and AR (with different deployment options).
The great thing about this is that if you are not ready to go all in and implement all the solutions, you can start with just one. Let's say you want to start with just the 3D viewer. You can do that—and then, if you want to expand a few months later and add AR to the experience, you can do that too. And further down the road, you can add 3D configurability if you wish to do so.
All from a single platform!
10. Significant Reduction in Product Photography Costs
It is not often realised just how expensive product photography costs.

And then, if you want to add video, which is becoming more popular to differentiate online customer experience, this is where costs begin to really increase.
One of the biggest benefits of online AR product visualisers is a significant reduction in product photography costs as a result of scale.
Let's look at Single Speed Cycles, an online bicycle retailer.
They have a wide range of customisation options for the single-speed and fixie bikes that they sell, including different sizes, colours, finishes, and other features. But photographing every bike in every available configuration wasn't a practical or cost-effective solution. This meant that in order to see the bike and completely understand the configuration options available, customers needed to visit a showroom and talk to a salesperson.
But with the rise of online shopping, Single Speed Cycles knew that they needed a way to ramp up their eCommerce game⁠—and so Bicycles AR Pilot was developed by Plattar.
By allowing their customers to place a to-scale model of their bicycle of choice (complete with their feature and colour customisations) customers can see how it will fit in their home (if they live in a smaller flat, for example), inside their vehicle, on a bike rack, or inside a garage, all before making their purchase.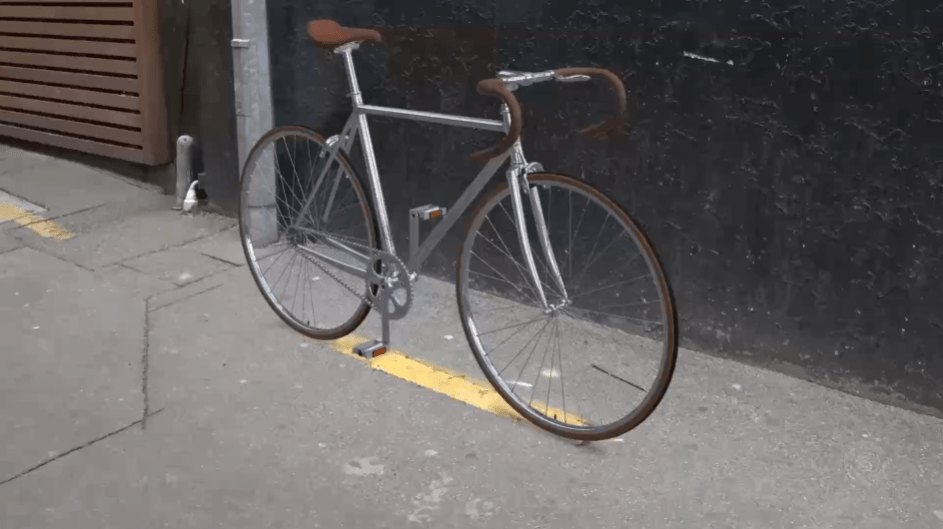 Bicycles AR Pilot recreates the showroom experience by dynamically creating a customised bicycle model to allow the customer to see the bike and visually understand its features and size⁠—all without the customer needing to leave their home.
11. Already Optimised for Improved Product Discovery on Search Engines
The last benefit of using an AR builder online is another marketing-related plus.
Because these platforms are designed specifically for 3D and AR product visualisation for eCommerce stores, many go the extra step and pre-optimise your 3D and AR content for product discovery on search engines.
This means that by using an online AR builder (rather than an SDK), prospective customers are more likely to find the products in your store.
We hardly need to explain why that's a good thing!
Conclusion
Customers want to be able to experience as many of the benefits that shopping in a physical retail location provides online. An effective AR experience allows them to view products in their own space, or try them on.
But eCommerce retailers with thousands of products also need a sustainable way to provide this experience for their customers.
An AR builder online can provide the AR experience that customers are looking for, while at the same time not putting undue pressure on sales, marketing, and development teams to build these experiences from scratch.
Plattar, for instance, allows:
Anyone to build AR product experiences through no-code drag-and-drop tools
Developers to utilise reliable UX templates to build AR experiences
High-quality product rendering to ensure that the customer is viewing crisp, clean product images and animations
All assets related to AR to be stored in a content management system so they can be reused as required
A high-level of customisation and seamless integration with eCommerce platforms
Scalable and OS-agnostic functionality—so it doesn't matter if your customer is using Android or iOS.
Provides a 3D viewer, (3D configurator), face-tracking solutions and face try-on, and AR (with different deployment options) on one platform
A significant reduction of photography costs with the ability to dynamically create similar products
Search engine optimisation with built-in SEO tools to index the content that you create
If you're looking to build anything AR product-related online, you'll want to prioritise a platform with high-quality rendering, as your customers will expect crisp, high-resolution imagery.
Plattar boasts the best image resolution on the market for 3D and AR products. Book a demo with one of our team members to learn how we can help transform your online product experience today.